Input Director streamlines control of multiple Windows systems using one keyboard and mouse, while simplifying monitor positioning. It makes switching between systems easy and convenient.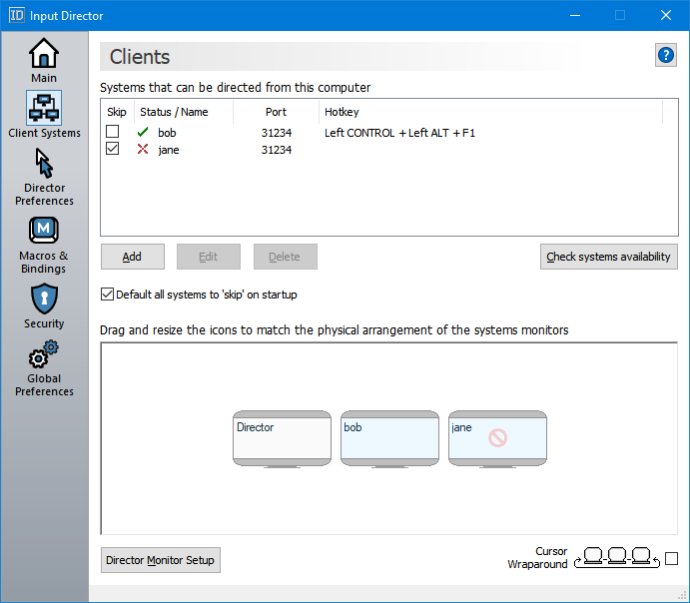 Input Director is a must-have software for anyone with multiple Windows systems in their home. This software allows you to position your monitors side-by-side and use a single keyboard and mouse to operate all your machines with ease. The switch between systems is very basic, moving the cursor off one screen onto the next, just like when using a multi-monitor setup. You can also switch between systems using a hotkey combination.

One of the most notable features of Input Director is its ability to share clipboard contents between the connected systems. It includes copying and pasting files from network-shared directories. The software comes with a host of new features that enhance the experience. Key-bindings can be set that allow you to bind one key to multiple target keys across your Director and Client systems. Bindings can be created using mouse buttons as well. This feature enhances the user experience and boosts convenience.

The OpenSSL library has been updated to version 3.0.3, and multiple bugs have been fixed, including one that could prevent you from transitioning to an available client. Also, users can select the encryption they prefer with ease. The encryption set on the Director system will now be used as the default encryption for each client. Commercial customers can set a mandatory encryption policy, ensuring more control over their security when sharing data between systems.

In conclusion, Input Director is an excellent tool for anyone with multiple Windows systems. It offers flexibility and convenience when controlling your machines. The software is user-friendly and offers a range of features that enhance the overall user experience. If you are looking for a software that can improve your productivity and make multi-system use more manageable, Input Director is definitely worth checking out.
What's New
Version 2.1.4: * Hostnames now support unicode characters
* Includes 64bit native version
* Supports Windows Modern Standby
* When in mirror mode, can optionally automatically mirror to new clients when they become available
* Fixed bug that could force cursor to continue being shown when using a touch device
* Fixed bug that cause a Director to think that a Client, when shutting down, was still available
* No longer resetting clients skip status when switching off mirror mode
* Upgraded OpenSSL library to v3.0.7
* Minor bug fixes
Version 2.1.3: * Hostnames now support unicode characters
* Includes 64bit native version
* Supports Windows Modern Standby
* When in mirror mode, can optionally automatically mirror to new clients when they become available
* Fixed bug that could force cursor to continue being shown when using a touch device
* Fixed bug that cause a Director to think that a Client, when shutting down, was still available
* No longer resetting clients skip status when switching off mirror mode
* Upgraded OpenSSL library to v3.0.7
* Minor bug fixes
Version 2.1.2: * Key bindings support binding a key to multiple target keys across the Director and Client systems
* Bindings can now bind mouse buttons as a source or target action
* Upgraded OpenSSL library to v3.0.3
* Fixed a bug that could stop transitioning to a client when it's status changes to being available
* The encryption set on the Director system will now be used as the default encryption for each client
* Commercial customers can set a mandatory encryption policy
* Minor bug fixes