Internet Access Controller is a software that offers schedule-based restriction, blocking, and limiting of internet access and websites. It also allows password protection and manages employees' internet usage or parental control. The software can block or allow programs access to the web.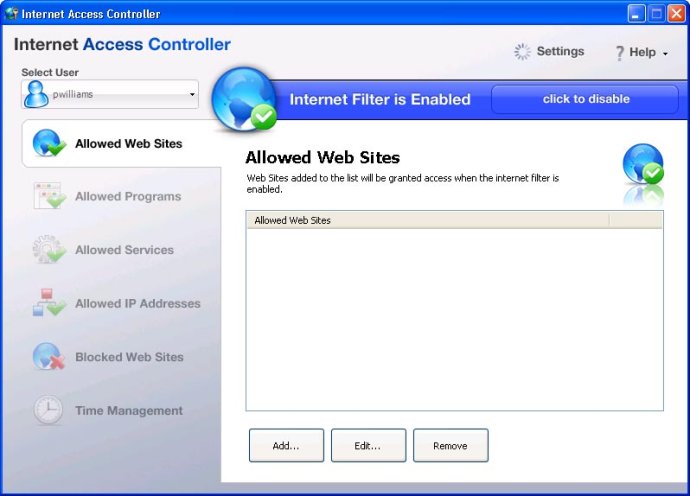 Internet Access Controller is a comprehensive software tool that provides users with the ability to control, block, and restrict internet and network access. With its wide range of features, this software can be used for various purposes, including parental control and employee monitoring.

One of the key features of Internet Access Controller is its ability to restrict internet access at specified times or on demand. Users can also password protect their internet connection to prevent unauthorized access. This feature helps protect their computer from viruses, trojans, worms, and other malicious software that can be contracted from the web.

Internet Access Controller is great for parental control and preventing employees from inappropriate internet usage. Users can block, limit, or allow programs and services that have access to the internet, providing them with complete control over their network connection. The timer feature allows users to disable internet access after a specified amount of time.

Some of the key benefits of using Internet Access Controller include the ability to restrict internet and network access automatically at specified times, password protect internet and network connections, enable and disable internet on demand, and allow internet access for a specified amount of time. Users can also allow access to only specified services or programs, such as email, and only to specified web sites.

For parents, Internet Access Controller can protect children from the dangers of the web, limit their online usage, and automatically turn off internet at night or any other inappropriate time. Users can also block harmful programs, such as chat and online games, and protect their computer from malicious websites or programs.

For businesses, Internet Access Controller can increase employee productivity by limiting the temptation for inappropriate web surfing. Users can only allow websites required for daily tasks, block unwanted websites and games, and only allow access to programs such as email, file sharing, and business-related programs.

In summary, Internet Access Controller is a reliable software tool with a wide range of features that allow users to control internet and network access, providing a safe and secure online environment.
What's New
Version 3.2.0.0: Added the ability to apply internet filter and schedule settings for each individual computer user. Added support for 64 bit operating systems. New easy to use interface.