ByteScout offers a free book on barcodes, including their usage, history, and pros and cons. It delves into various types such as Code 39, Code 128, and QR Code. Ideal for business users and software developers who want to learn more about barcodes through 48 pages of comprehensive discussion.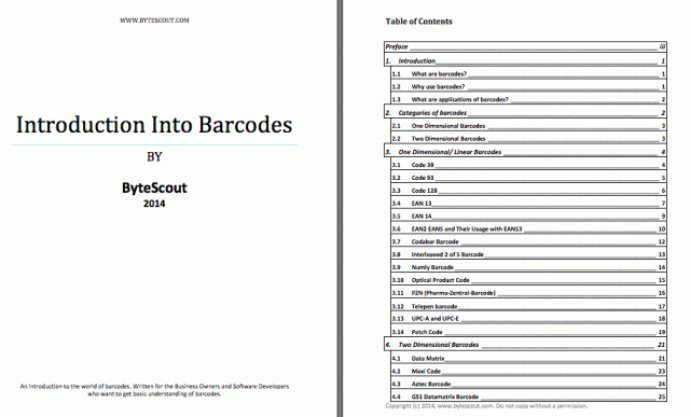 This software review is about a free book, brought to you by ByteScout, which covers the topic of barcodes and their usage, history, advantages and disadvantages. The book is a comprehensive guide to understanding the various types of barcodes, including Code 39, Code 128, QR Code, EAN, UPCA, UPCE, PDF 417, Datamtrix, Aztec and many more.

With its 48 pages of in-depth discussion, the book is designed to help both business users and software developers learn more about how they could make use of barcodes to benefit their work. Each type of barcode is meticulously explained in detail, making it easier for readers to understand the advantages and disadvantages associated with its use.

This is the perfect guide for those who want to improve their understanding of barcodes and how they can be utilized. The best part is that the eBook is available for free and there are no sign-ups or registrations required to receive your copy.

In addition, the eBook is available in three different formats: PDF for tablet readers, ePUB for Nook and other book readers and MOBI for Kindle users. This makes it easy to download and read the book on your preferred device.

Overall, this is an excellent resource for anyone interested in learning more about barcodes and how they can be used to improve productivity and efficiency. The book is easy to read and understand and provides a wealth of information on the topic.
What's New
Version 1.00: new release