InventoryManager is a free stock management software for small businesses. Its invoice, email, and statistics features help users track inventory, while a reminder module keeps track of deadlines and notifies customers. It's designed to be user-friendly and efficient for business owners.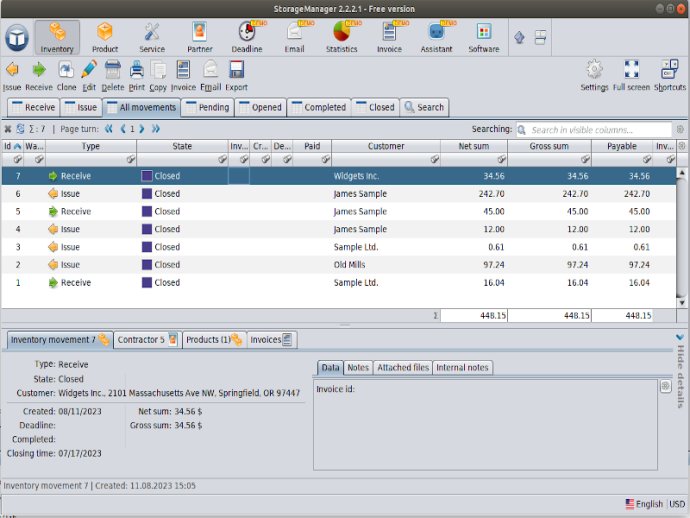 If you are a small business owner in search of a user-friendly and cost-effective inventory software, look no further than InventoryManager. With its integrated modules for invoice, email, and statistics, this software provides a comprehensive solution for managing both your inventory and customer relationships.

One standout feature of InventoryManager is its reminder module. By using this tool, you can effortlessly stay on top of deadlines and inform your customers about upcoming appointments or deadlines. Furthermore, the software comes with an inventory module and customer manager, which are included in the standard package.

For businesses that heavily rely on email communication, the email module of InventoryManager proves to be an invaluable addition. You can easily create personalized email templates and efficiently send them to your mailing list, thereby saving time and enhancing communication with your customers.

Last but not least, InventoryManager features an integrated invoice module. This allows you to effortlessly generate invoices for your orders, thereby streamlining and expediting the manual task of completing these processes. The software was intentionally designed with simplicity in mind, including only the essential functions that small businesses require to effectively manage their inventory.

In conclusion, InventoryManager is an excellent choice for small business owners seeking an intuitive, easy-to-use, and cost-free software solution for their inventory management needs.
What's New
Version 2.2.2.1: Integrated chat GPT model, faster operation, small bug fixes.
Version 2.1.2.2: Show company name in the program header.
New language options: Canada, Australia, Ireland, Germany, Austria, South Africa, Serbia.
Faster database update.
Fixed log file handling.
Corrected data field ordering.
Fixed attachement ZIP compression.
Fixed CSV import.
Version 2.0: First release.