iolo AntiVirus: Protects PCs from viruses, worms, Trojans and other threats, blocking malware in real-time with hourly updates. It removes malicious code, secures your files against theft and damage, and safeguards your privacy.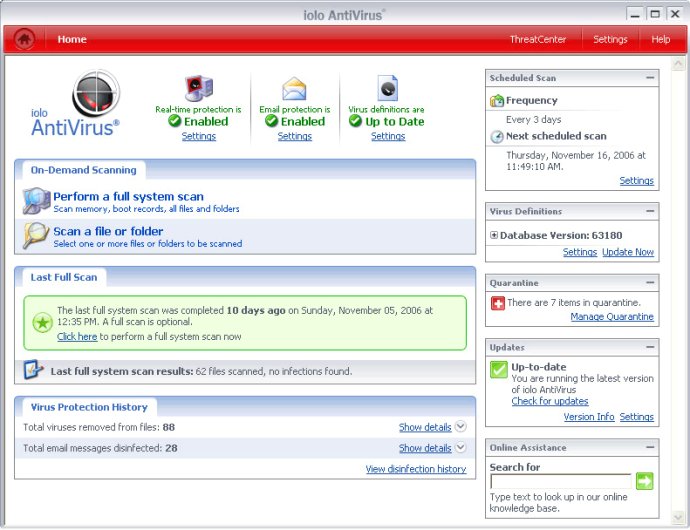 If you want to protect your computer against Internet threats, iolo AntiVirus provides a comprehensive solution to stop viruses, worms, and Trojans from infecting your PC and destroying your data. With real-time detection, e-mail scanning, scheduled inspections, and hourly updates, iolo AntiVirus is a reliable antivirus software that blocks malware, removes malicious code, shields your files from theft and damage, and guards your privacy.

iolo AntiVirus runs continuously and requires no complicated configuration to function. The software places few demands on system resources, so you can run it in the background without worrying about it affecting your computer's speed.

Real-time protection checks files as they are accessed, moved, copied, saved, or modified by you or by the operating system. This gives you peace of mind knowing that your files are protected at all times. Additionally, the on-demand scanner inspects your entire system, including memory, boot records, files, and folders, or it can scan just the files and folders that you specify.

You can schedule automatic scans on specific days or at specific times, so you don't have to remember to run the scanner manually. E-mail protection checks incoming and outgoing messages before they're sent or received and removes malware before it causes damage.

Advanced setup configurations allow you to have more control over the drives, file types, and folders that you include in scans. Automatic hourly updates ensure protection from the latest threats. Optional heuristic features detect and catch brand-new viruses by analyzing the behaviors and coding patterns that infections commonly use. Detailed statistics let you monitor antivirus activity, reveal suspicious patterns, and track the senders of infected e-mail messages.

iolo's online Threat Center provides you with searchable information about the latest security risks, trends, and malicious programs. With iolo AntiVirus, you can rest easy knowing that your computer is protected against Internet threats.
What's New
Version 1.5.1.4: Various product improvements