Iperius Backup is a Windows-compatible backup software for professional data backup supported with various features including disk imaging, Hyper-V and VMware ESXi free backup, LTO backup, backup for cloud storages from Azure, Amazon S3, Dropbox, Google Drive, and databases such as MySQL and SQL Server.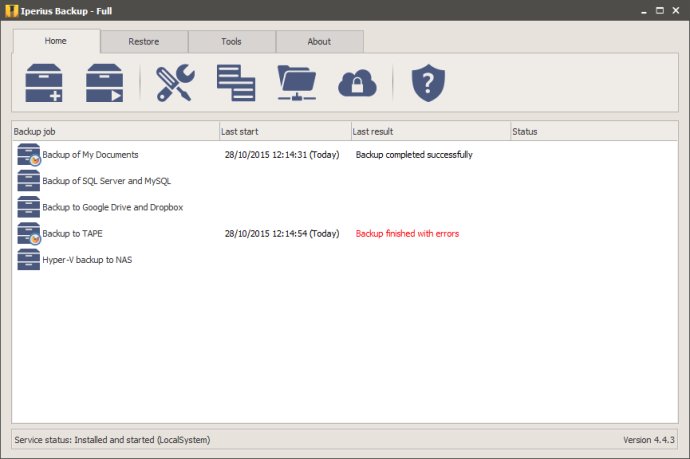 Iperius Backup is an all-in-one backup software that provides a flexible and comprehensive backup solution to protect your important files and data. With its wide array of features, including tape backup software, DAT backup, LTO backup software, NAS backup, RDX drives, USB backup, zip compression, AES 256-bit encryption, virtual machines VMWare ESXi backup, Hyper-V backup, online backup, database backup (Oracle, SQL Server, MySQL, MariaDB, PostgreSQL), FTP backup, FTP download and synchronization, website backup, Dropbox, Google Drive, OneDrive, Azure Storage, Amazon S3 (remote backup), this software ensures all areas of data protection are covered.

One of its stand-out features is the cloud backup configuration, allowing you to easily make backups to Google Drive, OneDrive, and Dropbox with just a few clicks, guaranteeing automatic remote backups and flawless security. The software is also compatible with Windows 8 and Server 2012, ensuring that it can run seamlessly on the latest operating system.

Iperius Backup also includes a Web Console feature that enables you to remotely monitor all backups, run backup jobs remotely, and update the program remotely. Additionally, the software comes with disk imaging backup functionality, allowing you to save the whole operating system with a fast block-level backup. This means you can make images of the system disk, recover a server with a few clicks, restore individual files, mount the image as a virtual machine, and restore the system to dissimilar hardware using bare metal restore.

The tape backup software is also compatible with Windows Server 2008 and Windows Server 2012, supporting any tape drive from common HP DAT 72/160/320 USB/SCSI to DLT/SDLT and up to high-capacity LTO 5 and LTO 6, making it easy to back up hundreds of gigabytes. With its ease of use, reliability, and speed, Iperius Backup is compatible with XP, Vista, Server 2003/R2, Server 2008/R2, Windows 7, Windows 8, Server 2012 (32/64 bit) to provide an exceptional data protection experience.
What's New
Version 5.0.2: Hyper-V backup, Backup to Amazon S3 Cloud and Azure, Backup ESXi Free, FTP backup, backup to OneDrive, incremental backup, backup to Google Drive, Maria DB/MySQL backup, download entire websites, tape drive backup software, backup SQL Server, MySQL, Backup to Dropbox, Exchange PST backup