This software is designed to track employee arrivals and departures with Simple Temp Management for businesses. It supports multiple points in the company through Local Network mode.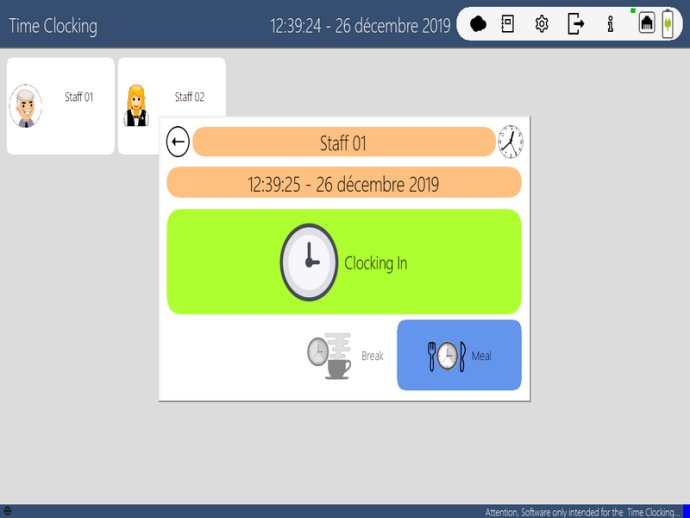 This software is designed to make recording the arrivals and departures of your employees as simple as possible. It's called Simple Temp Management and it can be run on a local network, allowing you to have multiple points throughout your company. You can even send reports by email, perfect for sending to your accountant.

One of the best things about this software is that you can create as many employees as you need. You can choose to set the software up with or without a password for pointing. You can also create unique times for meals, activate breaks, absences, sick leave, and more. This makes the software very versatile and customizable to meet your needs.

Simple Temp Management is designed to be run on Windows computers or tablets in touch mode. It's easy to use and optimized for touchscreens, making it ideal for use in a high traffic work environment.

When it comes to functions, there are plenty to choose from. The software can handle an unlimited number of users and it can count hours of work, breaks, meal times, and extra time. You can generate customized reports by period, week, and month for easy tracking. Reports can be sent via email in PDF or CSV format.

This software also allows for customizable settings like the ability to block clocking before a designated time, add comments to scores, and has a multilingual interface. The color theme can be changed to suit your preferences and the network mode lets you share the pointing data on a local network.

Additional features include the ability to sync with Google Calendar, view your work agenda, barcode clock-in, automatic report generation, and automatic backup. The software even has the ability to generate a user card with barcode scanning for added convenience.

All in all, Simple Temp Management offers a comprehensive solution for managing employee attendance and time tracking. It's easy to use, customizable, and flexible enough to meet the needs of any business.
What's New
Version 2.25: Bug Remove