Automate Kijiji ad placement with the Kijiji Auto Posting Tool. This software makes it incredibly easy to post ads on Kijiji, allowing for automatic posting of ads.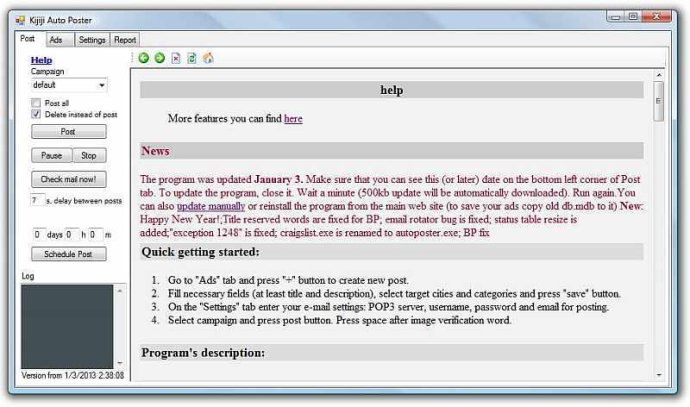 If you're looking for a tool that can make your online advertising tasks easier, Kijiji Auto Poster may be the answer you need. With this software, you can automate your personal and business advertising by just a few clicks. It allows you to post multiple ads quickly and manage them day after day without any problems.

The primary aim of this software is to simplify the advertising process, making it easier for you to reach your target audience without experiencing any headaches. If you're a business professional, you'll find that Kijiji Auto Poster is beneficial in many ways, especially if you're in the Marketing, Real Estate, Auto Dealers, Business-to-Business, Recruiting, and other related industries.

We can assure you that our software works wonders, and you don't have to take our word for it because we offer a free demo. Download and use it to see how Kijiji Auto Poster can save you time and effort. With this tool, you can focus on other important aspects of your business while we take care of putting your ads online.
What's New
Version 4.1: new keywords added; random page load delay added; UserAgent changer added
Version 3.1: new keywords added; random page load delay added; UserAgent changer added