Krelo is an ePub 3.2 document creation software that offers various templates or allows creating from scratch. It enables users to add multimedia elements and create XHTML from templates or personalized coding. Users can also edit or import existing XHTML files.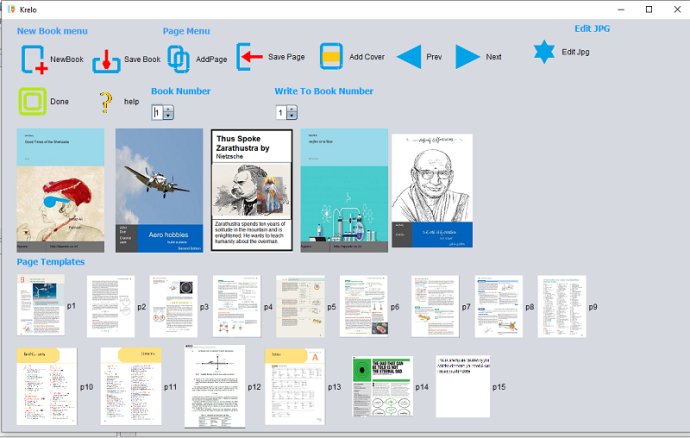 Krelo is an excellent software that allows you to create EPub 3.2 compatible documents. With Krelo, you can choose from a wide range of templates or create one from scratch, and then add the necessary resources such as images, audio, or video. You can create XHTML files from templates, import existing ones, or write your own. Once all the relevant data and files are added, you can create an .epub3 file by building the project.

Krelo comes with some unique features that make it the perfect tool for creating textbooks. You can create single, double, or triple-column textbooks, complete with images, audio, and video. You can also work on multiple books simultaneously, say up to five, and add as many pages as you need. Krelo lets you create tables in six different styles, add pages in the language of your choice, and insert special characters like Greek letters. You can also edit JPGs for inclusion in your pages, and create cover pages in any language.

Krelo operates on a few basic concepts that make it straightforward to use. The Template file is the most versatile page creator, and you can build a page using any of the existing templates or create your template and reuse it repeatedly. You can also use the Graphic Menu to create a new book, add a cover, and insert pages. This process begins with a new Book Project, where you create the required number of book projects and complete them as more details emerge. The process is not sequential, so you can work on 10 pages of five books per day, for instance.

Creating a single-column book with Krelo is easy. First, create a cover by clicking the Add Cover icon in the Graphic Menu, selecting a template, filling in the details, choosing an image, and clicking OK. The Cover Image will be stored in the MyBooks/Stored_Images directory. Finally, you can create a table of contents or generate your pages by writing your page scripts. Overall, Krelo is an intuitive and user-friendly software that lets you create EPub 3.2 compatible documents with ease.
What's New
Version 1.0: Initial Release