Krisp is a noise cancelling software utilised for recording podcasts, conference calls and webinars. It is easy to integrate with headphones, microphones and speakers, and supports various communication apps for delivering a glitch-free audio experience.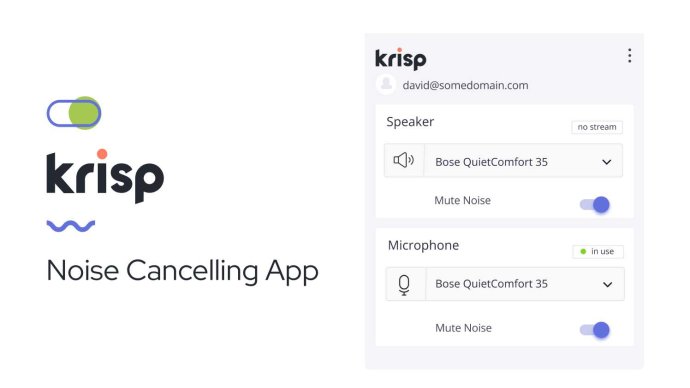 Krisp is a powerful software that utilizes the advanced krispNet Deep Neural Network technology to recognize and eliminate background noise from real-time audio calls. It is designed to leave only clear human speech in the conversation, making sure that you can have uninterrupted and productive meetings.

The software supports a wide range of communication applications such as Skype, Zoom, Discord, Webex, QuickTime, Audacity, Loom, and over 600 other apps that allow you to change the microphone and speaker settings. It works seamlessly with any headphones, speakers, or microphones, both wireless and wired.

Krisp is created for remote professionals, digital nomads, podcasters, and freelancers, as well as anyone who values their privacy in the 21st century. The software is designed with privacy in mind as all audio processing happens locally, making sure that your conversations stay within the boundaries of your device.

One of the most impressive features of Krisp is that it cancels noise bi-directionally, not just eliminating noise going from you to other call participants but also noise coming from other callers to you. This makes sure that everyone on the call enjoys high-quality audio, and productive communication.

Krisp is easy to use, and it works with any communication app, any headset, headphone, microphone, or speaker. It is available in tailored plans for individuals and teams. The Free Plan is perfect for muting speaker noise coming from other participants. In contrast, the Pro Plan is available for muting noise from both the speaker and microphone, and can be used on three devices simultaneously.

Krisp offers a 14-day free trial of its Pro Plan that lets users experience bi-directional noise removal and productive conversations. Once the trial expires, upgrading to the Krisp Pro Plan costs only $8 per month or $3.33 per month if paid annually, making it an affordable and valuable asset for remote workers and digital nomads alike.
What's New
Version 1.10.2: - There should not be any problem, but in case there is, we will be much better equipped to help you with the new upgraded 'Report a Problem' feature
- A new onboarding flow with video and much better user interface