This software is a Medical Labeling and Printing Tool for creating barcode labels for the healthcare industry. It also contains a Pharmaceutical Label Printing Tool, allowing users to save, export, and print the designed barcode. With this software, users can easily generate multiple barcode values dynamically for easy organization.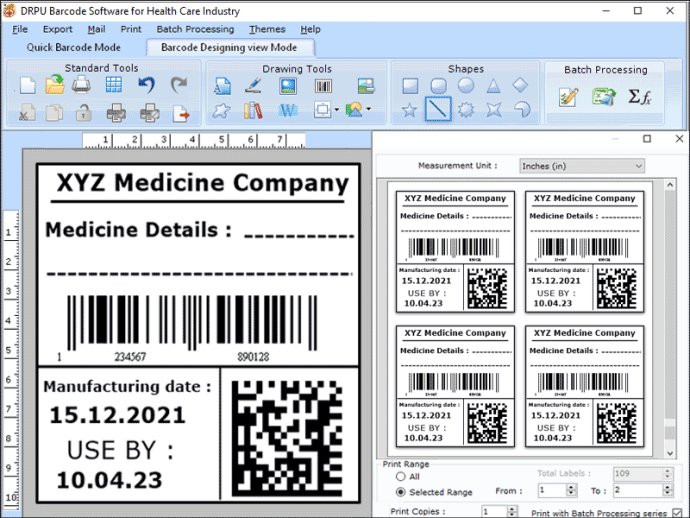 The Pharmaceutical Label Printing Software is an exceptional software that enables health care industries to keep track of their medical equipment using printable barcodes. The software has two technologies, namely linear and 2D, that help achieve or print QR code and Data matrix code.

The Barcode maker application generates barcodes and saves them as PDF files or image files in the Medical industry. The software provides an option to generate barcodes in bulk by adding value in an Excel file and importing it with batch processing series feature. It also offers alternate ways to create bulk barcode values using sequential, constant, and random series for barcode.

The software has two modes for barcode designing. Quick barcode mode is the default mode, and the second one is barcode designing view mode. The software is compatible with all versions of Windows OS. Additionally, the software reduces the labor costs for health care industries to track available medical products or items.

To create a barcode, the user must follow four simple steps. Firstly, take a fresh file from the menu. Secondly, add more designs to the barcode using the available properties in software like setting the header-footer value of barcode, background color, and font color in barcode. Thirdly, the software assists in creating multiple barcodes through batch processing series and also imports data into an Excel file for creating multiple barcodes. Lastly, print the barcode with pre-defined label stock and export the design in image (PNG, JPG, and Bitmap) format or PDF format.

In summary, the Pharmaceutical Label Printing Software is a user-friendly software that helps generate barcodes for the medical industry to improve tracking and inventory management. The software is easy to use and provides various options for barcode designing and generating bulk barcodes.
What's New
Version 9.2.3.2: Added Support for Latest Windows OS Updates. Added Support for High DPI resolutions Compatibility. Added new Barcode Technologies. Added additional Batch Processing Features to import Data from Excel Sheets.