Efficient solution to recover passwords for Quicken (*.qdf) files, offering instant transaction password cracking. Offers Brute Force Attack, Dictionary Search and Smart Force Attack methods for password cracking.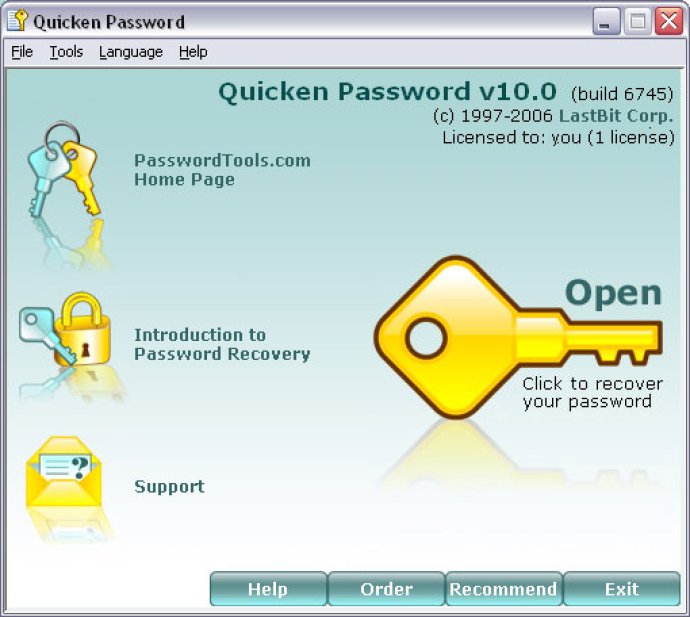 If you have lost your password for a Quicken file and need to recover it, Quicken Password is definitely the tool to use. The new password recovery engine has been improved and optimized for multi-core CPUs, making it possible to achieve the best performance possible.

It is important to note that there are two types of passwords that can be used in Quicken: a password for opening a data file (also known as a 'file password'), and a transaction password. If both passwords are set, you will have to crack the password for opening the file first before you can recover the transaction password.

It is unfortunately not possible to recover the transaction password if the file password is set. However, the transaction password can be decrypted instantly, and a fake password can be constructed. If your document was created in an old Quicken prior to 2001, the password for opening is much harder to recover. In such cases, universal recovery methods such as Brute Force Attack, Dictionary Search, and Smart Force Attack must be used. It will take a lot of computations, and the search speed will be quite slow, not more than 1000 passwords per second.

In light of this difficulty, LastBit Corp. has introduced Guaranteed Recovery Service for Quicken. This service harnesses the power of multiple computers, which is equivalent to 6+ months of computations on a single computer. By doing so, the chances of decrypting a password are significantly improved.
What's New
Version 11.0.8050: Improved password recovery engine. Guaranteed Recovery Feature is available.