The Single Operator ASP Script Chat Software is a downloadable online chat tool that allows real-time communication and monitoring of website visitors. It enables live customer support and technical problem management through an interactive graphical user interface.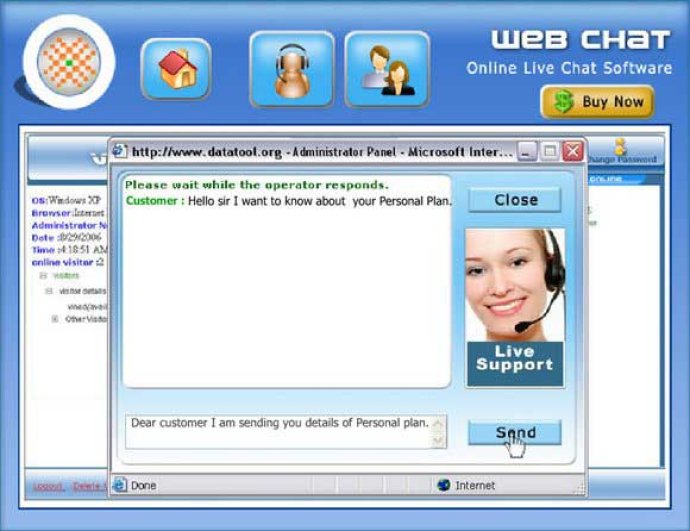 This software is a must-have for any company looking to enhance their customer service experience. The single operator ASP script based chat software allows you to embed a live chat button on your website, enabling visitors to connect with your company representatives instantly.

One of the best aspects of this software is that it is completely web-based, meaning that users do not need to download any extra applications to chat with staff. The software also provides a range of features such as sales chat, unlimited operator-client chat sessions, real-time site monitoring, and site metrics and performance.

In addition to this, the utility provides the option for customization, including the ability to assign operators to multiple departments, use canned answers, and save chat session logs. You can also set up sound and visual alerts for different events, such as when a visitor enters the chat room.

Another useful feature of this software is the ability to track website visitors in real-time, with chat transfer options available if a visitor needs to speak to a different representative. Website administrators can also change the login-password of the web chat utility and send offline messages when an operator is not available.

Overall, the ASP script based live chat software is easy to use and provides a fantastic option for a wide range of businesses, including Hosting, Travel, Media, Insurance, Web design, Education, or Real estate companies. With features such as real-time text chat, URL pushing, and customizable chat buttons, this software is an excellent choice for anyone looking to provide top-quality customer service on their website.
What's New
Version 4.0.1.5: Added support for all new internet browsers.