Luxea Video Editor is a user-friendly software for creators to unleash their creativity effortlessly. It offers high-quality video production capabilities with up to 60 frames per second, empowering users to bring their concepts to reality quickly and easily.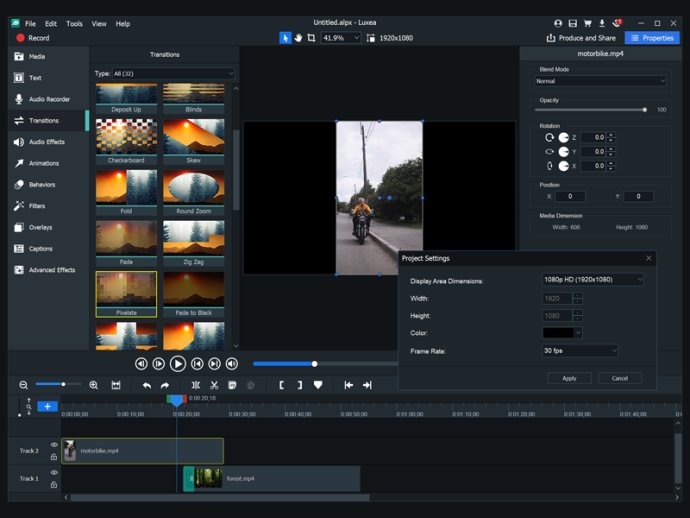 Luxea Video Editor is a game-changing software that revolutionizes the way users bring their creative visions to life. By offering support for up to 60 frames per second, it ensures ultra-smooth transitions and delivers an immersive viewing experience. The software introduces a new range of features, including text tools, extended editing capabilities, and increased transitions, expanding the possibilities for creative expression.

Luxea Video Editor serves as an all-in-one platform for media management, allowing users to import and manage their own media and recordings from various sources like webcams, microphones, and screens effortlessly. Its rich functionality enables convenient arranging, editing, splitting, trimming, and merging of audio, video, and still images.

In addition, users can enhance their videos by adding captions, filters, effects, and transitions, taking them to new heights. The software also offers the ability to finalize and render videos in 4K and other formats and sizes. Sharing masterpieces on social media becomes a breeze with Luxea Video Editor, thanks to its customizable timeline and the ability to manage gaps between media.

Luxea Video Editor understands the needs of modern-day software editors and provides features to address them. For instance, users can move the viewing area to a secondary monitor for easier management of larger projects. The platform also introduces new shortcut features that simplify editing tasks, such as rotating media with two clicks or copying and pasting filters between media. Additionally, users can limit playback quality to optimize processing power without compromising output quality.

The software offers an extensive range of text styles, including 20 customizable fonts, colors, alignments, directions, and formats, ensuring an attractive and personalized look for videos.

In conclusion, Luxea Video Editor is a comprehensive and professional video-editing platform suitable for both creative professionals and hobbyists. With its vast array of features, seamless merging capabilities, and user-friendly design, it has become the go-to tool for producing professional-grade videos that can be shared with the world.
What's New
Version 7.1: Added the ability to turn off Maintain Audio Pitch when applying Speed Ramping
Added a graphic in the Source monitor when playing and pre-editing audio
Export Templates and Text Presets from Luxea 6 are automatically imported when LUXEA Pro 7 is first run
German and French localization
Bug fixes
Version 7: Video Recorder:
New GUI design
Auto stop function
The ability to dynamically record and generate audio clips in sync with the timeline while playing video
Video Editor:
New GUI design
The ability to customize the workspace, save and manage multiple workspaces
Elements pane
And more!
Version 6.1.1.2018: Fixed an issue with the Purchase page not displaying correctly. 
Version 6.1.1: Fixed an issue with the Purchase page not displaying correctly.