The Bulk SMS software allows users to send unique content information to multiple recipients simultaneously, and is compatible with multiple mobile devices. The Mac software can even send national or international messages without needing an internet connection.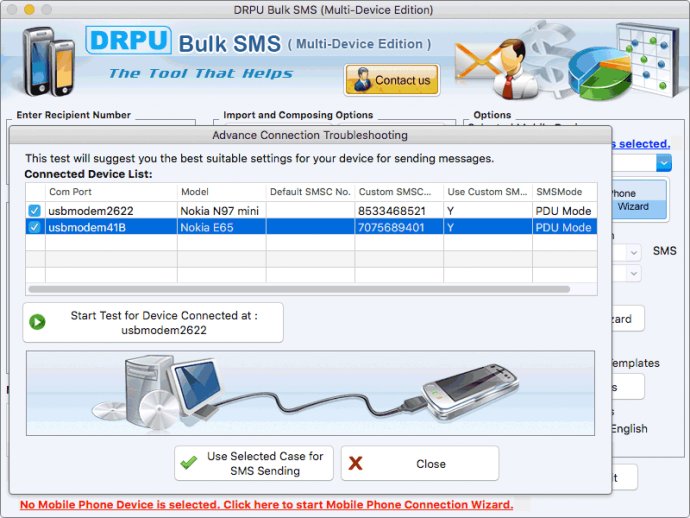 The Mac Bulk Messaging Software is an exceptional tool that helps its users send thousands of messages through multi-device connecting with a computer system or laptop. This Bulk SMS software supports multiple versions of Mac OS, making it more convenient for users to connect multiple devices simultaneously.

The unlimited text messaging software has numerous benefits for digital marketing companies, as it streamlines the SMS marketing process and allows them to send unlimited text messages in less time. The software provides the option to skip duplicate numbers and also supports non-English characters for sending message information to the recipients. This user-friendly software helps send messages to the team, employees, or customers seamlessly.

Bulk SMS software can send unique messages to multiple individuals, using a computer or laptop with different multiple mobile devices on Mac. The SMS software also sends the same messages to multiple persons. The software allows users to add bulk contact numbers and message information by importing an Excel sheet or adding and pasting text manually.

Furthermore, the Bulk SMS software provides a time-delay option to send the messages and sends unique or personalized messages to every person. The software easily imports or exports contact numbers and content into computer storage, making it easier to manage.

To send bulk SMS with the multi-device feature, you need to follow simple steps. Firstly, download and install the multi-device bulk SMS software in your PC, and start the software. After that, connect your phone with a computer device by enabling USB debugging mode and installing the specific driver software for multiple mobile devices in the computer. Lastly, add phone number and content for all individuals or add an Excel file for bulk contact numbers. The software helps you update messages and numbers before sending messages. Finally, the Multi-device Mac software assists you in sharing the same messages to all recipients with just a click of a button.

In conclusion, the Mac Bulk Messaging software provides a promising solution for those looking to streamline the SMS marketing process and manage multiple mobile devices effortlessly.
What's New
Version 9.3.3.2: Added Support for Latest Mac OS X, MacOS and all other Apple Mac Operating System Updates. Added Support for High DPI resolutions Compatibility. Added new Bulk Text Messaging Technology. Added additional Features to import contacts or messages from Excel Sheets.