This software allows users to compile lists of contact numbers and message information to be sent in bulk. Once compiled, the messages can be sent to multiple people in a single click. The software also saves sent messages for future use and can be utilized for SMS marketing purposes, such as advertising products.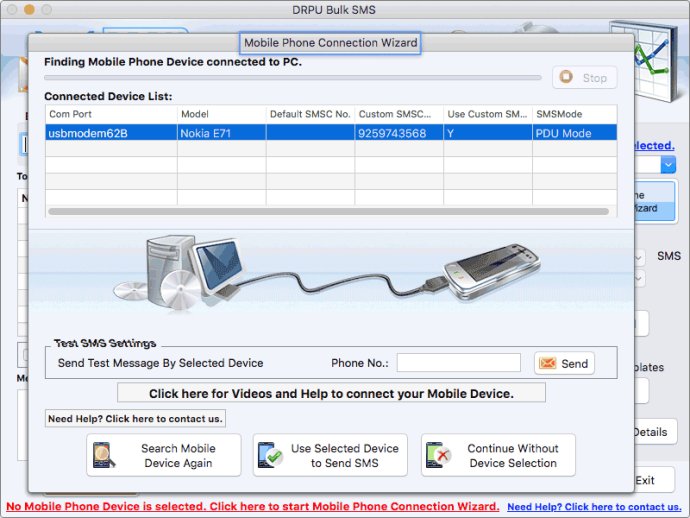 This Mac software review is for an application that supports SMS marketing by enabling users to transmit bulk SMS from one location to another on any version of Mac machines. The software allows alerts, notifications, reminders, special offers, and group messages. It also lets people exclude list of contact numbers from the existing list during message sending. Multiple mobile devices can connect simultaneously to send the messages.

The Mac SMS software supports non-English languages and has an option to skip duplicate contact numbers. It provides a way to do group communication at national as well as for international via messages without the internet connection. Additionally, the list of contact numbers can load from the phonebook in Mac Bulk SMS software.

To download the Mac OS Bulk SMS Sending Application, the user has to take the following steps:
Step 1: Download the software from the official website and install it on your PC or laptop.
Step 2: Connect the device with a laptop by installing the specific driver corresponding to the mobile device from the official websites. Then, connect the mobile device with a USB cable from the computer and enable the option of USB debugging mode of the mobile device. The software supports multiple types of mobile phones like GSM, Android, and Windows-based phones. It also shows the status of the currently active mobile device for messaging.

Add Messages and Numbers:
- Import the contact numbers from the mobile's phonebook in bulk or add multiple numbers by loading the file into the software.
- Add bulk message content with the help of an excel file.

Step 3: General options for the created message: Edit or update messages before sending. The software helps to execute time delay for message transmission for every SMS with a particular time period. Created messages can be excluded from the list of groups in the software.

Step 4: Send message: Software sends bulk messages with one click of the send button. With features such as exclusion of numbers, non-English language support, and bulk messaging capabilities, this software is an excellent tool for SMS marketing campaigns.
What's New
Version 9.3.2.3: Added Support for Latest Mac OS X, MacOS and all other Apple Mac Operating System Updates. Added Support for High DPI resolutions Compatibility. Added new Bulk Text Messaging Technology. Added additional Features to import contacts or messages from Excel Sheets.