Mac PowerSuite is a comprehensive Mac optimizer featuring four modules: Clean Up, Find Duplicate Files, App Uninstaller and Eraser. The software effortlessly boosts system performance by removing unwanted apps and junk files, leaving your Mac clean and fresh.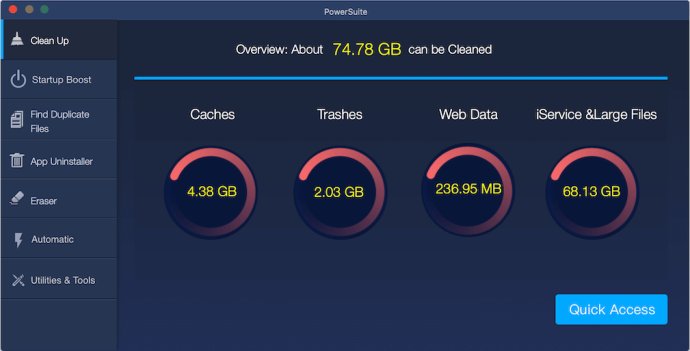 Mac PowerSuite is an impressive optimizer software for Mac systems that comprises four valuable modules, namely Clean Up, Find Duplicate Files, App Uninstaller, and Eraser. This app offers unparalleled functionality to keep your computer clean from clutter and performance issues. The Clean Up module facilitates easy removal of unwanted and garbage files including caches, trashes, web data, and iServices data with just a few clicks.

Moreover, the software's Duplicates Finder identifies duplicate files with high efficiency, allowing users to recover disk space by safely deleting duplicates. The module's scanning mechanism quickly scans your hard drive or folders to detect duplicates and provides you the option to move selected duplicates to the trash for safety.

When it comes to removing unwanted apps or files from your Mac, Mac PowerSuite's App Uninstaller and Eraser modules come in handy. These modules are designed to permanently delete the selected apps or files from your Mac computer. Moreover, you have the power to choose which app to remove from the computer after performing the scan with the App Uninstaller and Eraser modules.

In conclusion, Mac PowerSuite is a one-stop optimizer solution for your Mac computer that helps you keep your system clean and free from unwanted clutter. Its intuitive interface, diverse functionality, and efficient modules make it a must-have tool for every Mac user looking to optimize their computer's performance.
What's New
Version 1.8.6: 1. Improved the performance of Cleanup;
2. Show auto-check after scanning the duplicated files;
3. Fixed bugs when uninstalling apps or plugins.