The MacOS Android texting app enables easy transfer of notification and standard messages from Mac to Android phones. It has advanced features such as multiple message sending to multiple numbers.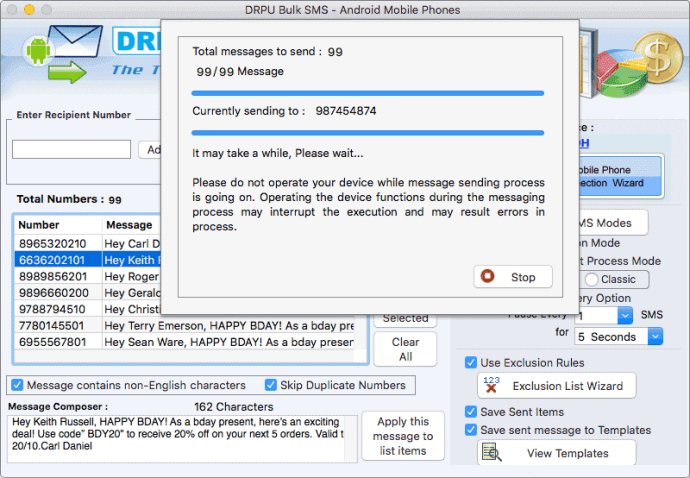 The Mac Texting Tool using Android Cell Phone is an exceptional software solution for those looking to send large multi-language messages from a Mac PC to an infinite number of mobile phones without any need for an internet connection. The software is quite useful for all sorts of businesses to facilitate communication between businesses and their clients.

Mac messaging tool for android device require an android mobile phone to be successfully connected to the Mac system via a USB port for transferring multiple notification messages. This Mac SMS transfer software for Android-based mobile phones requires a recipient number, which may be manually entered or loaded from a file by pressing the Load Contacts from File Button.

Users can send unique messages to every contact number by using Import and Composing Options. In the message composer box, users may write messages and apply them to a single or all of the numbers in the number list. By inputting the data from an Excel data sheet, users may send unique or customised SMS to each contact. Additionally, the Update Selected Message button allows the user to update a specific message.

The software provides users with the ability to send national and international SMS to any number in any language, thanks to Unicode language support technology.

The software offers a plethora of features to its users; firstly, re-sending of unsuccessful messages is possible. Secondly, sending large quantities of text messages from a computer does not require an internet connection. Thirdly, users can regulate message delivery for a set amount of time using the Delayed Delivery Option. Fourthly, users can store sent messages to templates using software. Lastly, when sending messages, the software has the option of using Exclusion Rules to exclude contacts from time to time.

All in all, this software is highly efficient and helpful for those looking for a dependable solution to send text messages in bulk safely and effortlessly.
What's New
Version 9.3.2.3: Added Support for Latest Mac OS X, MacOS and all other Apple Mac Operating System Updates. Added Support for High DPI resolutions Compatibility. Added new Bulk Text Messaging Technology. Added additional Features to import contacts or messages from Excel Sheets.