Mac Multi Device Bulk SMS Software facilitates businesses to send promotional text messages to their contacts regarding products, services, alerts, and time-sensitive updates. It enables easy and effective communication with all of the contacts, improving customer engagement.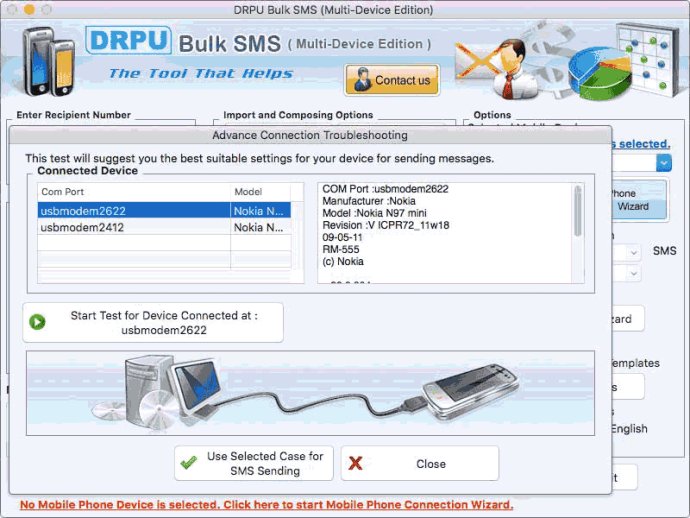 The Apple Mac Bulk SMS Messaging Tool is an efficient and easy-to-use software that broadcasts unlimited text SMS using GSM technology-based mobile phones connected to a Mac OS X installed PC. The user can send text messages in the form of standard SMS or notifications to national and international mobile networks.

The software offers a seamless bulk messaging experience to the user by following some simple steps. The first being, clicking on the Mobile Phone Connection Wizard option and selecting the mobile device from which they want to send text messages. In step two, the user can add the contact numbers along with the text messages in the recipient number list through two ways: either by entering the contact number in the recipient's number box or by importing the recipient numbers with the messages by loading contacts from a file or using an excel file.

In step three, the user can update the text messages of every contact number in the recipient number list through two ways: either by choosing the update selected messages option, writing a unique message for every selected contact number, and then applying it or by writing a new standard message or notification in the message composer box, clicking on the apply this message to the list items option and then applying it to all list items, selected list items or blank list items.

The software also offers some additional options to manage the load of bulk SMS broadcasting in step four by enabling the 'Skip Duplicate Numbers' option, step five by enabling the 'Message contains Unicode Characters' option, and step six by clicking on the Delayed Delivery Option in which the user can pause some text messages for a specific time limit.

In step seven, the software offers the Exclusion List Wizard option to exclude some contact numbers time to time during the message-sending process. In step eight, the sent text messages can be saved to templates so that they can be directly forwarded to other cell phone users without any change. Finally, in step nine, the user can click on the send option to deliver the text SMS and then select the sent items option to see the message details.

Overall, the Apple Mac Bulk SMS Messaging Tool is a reliable and efficient software that offers a plethora of features to make the bulk SMS broadcasting process easy and streamlined for the user.
What's New
Version 9.3.2.3: Added Support for Latest Mac OS X, MacOS and all other Apple Mac Operating System Updates. Added Support for High DPI resolutions Compatibility. Added new Bulk Text Messaging Technology. Added additional Features to import contacts or messages from Excel Sheets.