This software allows Mac users to download music from Pandora for free and convert them to popular formats like MP3, AAC, WAV, FLAC, AIFF, and ALAC quickly, while maintaining the original quality. It also ensures that ID3 tags are preserved for easy organization and management.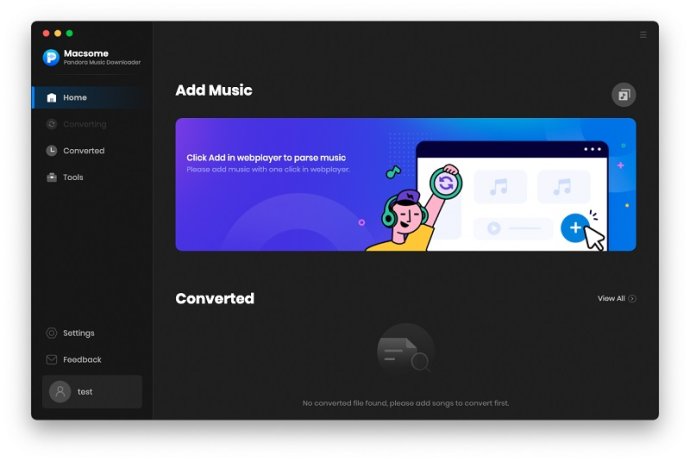 I recently had the opportunity to try out the Macsome Pandora Music Downloader for Mac, and I have to say, it's a game-changer for music lovers. This software allows you to download Pandora tracks directly onto your Mac, providing an all-in-one solution for your music needs. Not only can you download individual tracks, but you can also download complete albums, playlists, and podcasts with ease.

One of the standout features of this software is its ability to convert Pandora Music songs into different file formats. With support for formats like MP3, AAC, WAC, FLAC, AIFF, and ALAC, you can easily transfer your music to different devices such as iPhones, iPods, Android tablets, smart TVs, and more. And the best part is, it supports batch conversion, so you can import multiple playlists and albums simultaneously.

Speed is also a big point of praise for the Macsome Pandora Music Downloader. It can download music from Pandora up to 10 times faster than other converters while maintaining CD-quality output. Regardless of whether you're a Pandora Plus or Premium subscriber or just a Free user, you can download your favorite tracks for free using this software.

When it comes to preserving the integrity of your music, this program has you covered. It supports almost all ID3 tags for downloaded songs from the Pandora web player, ensuring that you won't lose any important metadata such as song titles, artists, or album names. Additionally, if you're using the latest macOS, you can rest easy knowing that this software is fully compatible with it.

Overall, the Macsome Pandora Music Downloader for Mac is a powerful yet user-friendly software that offers a plethora of great features. It eliminates the need for a constant internet connection or a premium subscription to enjoy your favorite songs. With this software, you can quickly and efficiently download your favorite Pandora tracks and enhance your music experience.
What's New
Version 2.0.0: 1. Upgrade the new user interface. 2. Support free tools, including Tag Edit and Format Converter.
Version 1.0.0: New release.