MacUncle offers a free toolkit for Mac OS that opens VCF files and displays their contents, including Full Name, Email address, Company, and Phone. The vCard viewer is an efficient way to access and manage contact details on a Mac.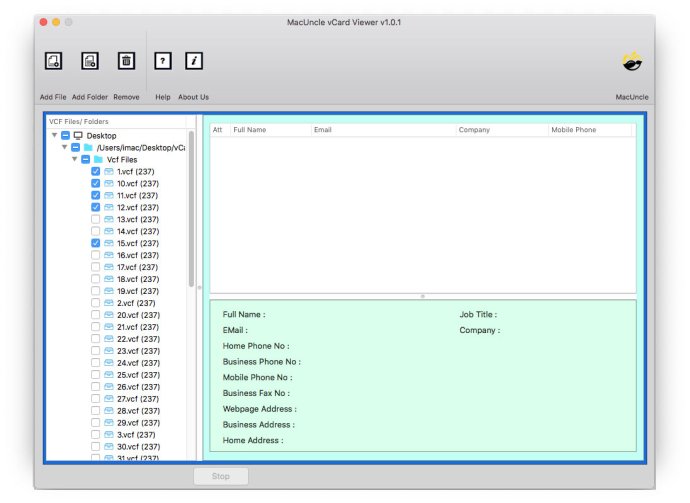 MacUncle vCard Viewer is a user-friendly software available on macOS that enables users to view vCard files and display all information they contain without any glitches. This software seamlessly supports all types of vCard files created or exported from different services like Gmail, iCloud, Windows Mail, Outlook, and other similar services.

The VCF Viewer for Mac is a free software and allows users to use VCF files indefinitely. With an effortless setup process, users can start using the application instantly. This software supports all versions of vCard files like vCard 2.1, vCard 3.0, and vCard 4.0.

MacUncle vCard Viewer for macOS is an excellent option for users who wish to view vCard files on their Mac computer effortlessly. The software provides two options for adding vCard files to the panel: Add File and Add Folder. The dual add options enable users to view vCard files in batches for free.

When a user inserts a VCF file into the program, the software previews all the files in the chosen folder or all of the vCard files on the reading screen. The VCF Viewer for Mac displays all details such as email address, full name, home address, webpage address, home phone number, business address, and business fax number when a user clicks on the preferred vCard files.

The MacUncle vCard Viewer is compatible with Mac OS X versions higher than 10.8 Mountain Lion. Overall, this is a simple yet powerful software that is a must-have for users who frequently use vCard files, making it a worthy investment for Mac users.
What's New
Version 1.0: N/A