Map My Ancestors is a software that allows you to visualize the migration of your ancestors across the globe using Google Earth. Exporting a GEDCOM file from your family tree program and choosing who to show, Map My Ancestors confirms locations on a map and displays them using Google Earth.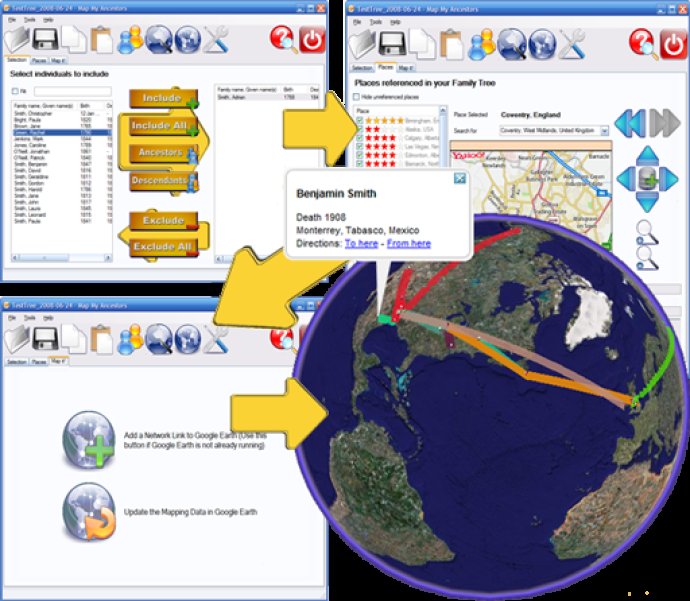 If you want to link the people in your family tree to Google Earth's powerful mapping capabilities, you can now do so with ease. With the Mapping Your Ancestors software, you can easily create Placemarks for important events in the lives of individuals, and view a path tracking their movements throughout their lifetime.

Thanks to the timespan slider function within Google Earth, you can even restrict the view to a certain period of history, allowing you to watch your family's story unfold in a truly unique and captivating way.

Mapping Your Ancestors has streamlined the process into three simple steps: select which individuals you want to see, confirm their locations, and launch Google Earth to begin visualizing their history.

This software is loaded with impressive features, including compatibility with GEDCOM, the ability to integrate with the Yahoo Geocoding and Mapping services, the option to select which event types to show, and automatic updates to Google Earth as changes are made to the viewing options.

If you're looking for an intuitive and exciting way to explore your family's history and ancestry, Mapping Your Ancestors is the perfect tool for you. Give it a try today and see where your family's journey takes you.
What's New
Version 1.8.11.0: Amendments to distribution function to allow filtering on event type