MB Free Compatibility is a complete software for compatibility testing. It incorporates various compatibility programs based on different schools of astrology and numerology for accurate compatibility analysis.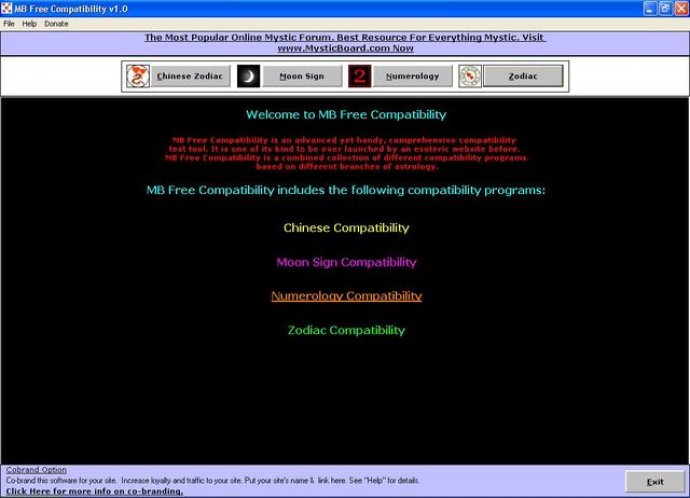 If you're looking for an advanced yet handy compatibility test tool, look no further than MB Free Compatibility. This program is one of the most consolidated and comprehensive tools of its kind, based on different branches of astrology.

With an easy-to-use interface, MB Free Compatibility is a remarkable and accurate tool that is perfect for anyone looking to analyze their relationship based on the concepts of astral science. It is the first of its kind to be launched by an esoteric website, making it a truly unique offering.

One of the standout features of MB Free Compatibility is its ability to determine the level of compatibility between you and your partner. Whether you're interested in Western Sun Sign Compatibility, Chinese Zodiac Compatibility, Moon Sign Compatibility, or Numerology Compatibility, this program includes it all.

Overall, MB Free Compatibility is a comprehensive and reliable compatibility test tool that is perfect for anyone who wants to gain insight into their relationships. Whether you're a beginner or an experienced astrologer, you'll find that this software is an invaluable resource that is well worth your investment.
What's New
Version 1.95: Run time error 13 and application running error corrected.
Version 1.70: error in moon sign compatibility corrected
Version 1.60: type mismatch error rectified
Version 1.50: minor tweaking made in date format