This software is a versatile information manager with a distinct non-hierarchical categorization system. It allows users to organize various types of data like notes, internet bookmarks, emails, and documents on their desktop and Pocket PC platforms.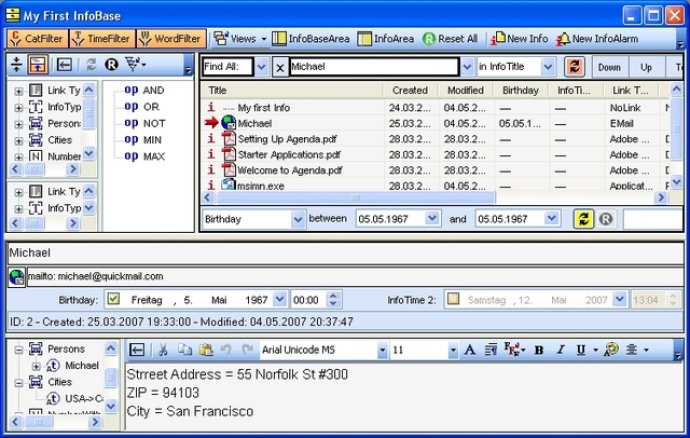 MDE InfoHandler is an all-around information manager that offers users PC and Pocket PC compatibility when it comes to organizing documents, notes, web links, dates, programs, and more. The software provides users with a sleek and uniform interface, making it easy for them to categorize and sort information efficiently.

Version 11 of InfoHandler, also known as InfoHandler 2008, has been re-implemented using up-to-date technology, introducing a brand new user interface that includes enhancements to the previously used design. InfoBases, the databases of InfoHandler, now use the standard XML (Extended Markup Language), allowing for human-readable files that can be accessed by other applications.

The help feature has been updated, with HTML Help replacing the old WinHelp engine. Additionally, many features have been re-implemented, such as the powerful and hierarchical categorization method, automatic categorization, and various kinds of drag-and-drop features.

The software includes a filter feature that allows users to set restrictions on time stamps, categories, or keywords contained in the title, long texts, or linked documents of items. Active links are available to external objects (such as web pages and documents), as well as between Info items in the same or different InfoBases. The program also offers stored styles and templates for users to use with their rich formatted text items.

Other features include the ability to export data to the Pocket PC companion program and re-import changed and new info, connect to MS Office Outlook, and much more. InfoHandler 2008 uses a ClickOnce deployment for installation, allowing the program to check for available updates and load new components after confirmation with each start.
What's New
Version 11.1.86: Clipping of Web content, mapping folder trees, connecting to MS Outlook
Version 11.1.64: Clipping of Web content, mapping folder trees, connecting to MS Outlook
Version 11.0: Completely new implementation based on Microsoft C# and .NET 2.0 technology
Version 9.4: .NET, Unicode. find/replace with regular expressions
Version 9.0: .NET, Unicode. find/replace with regular expressions