MediaArchive is a free and user-friendly media management tool that offers an array of features, allowing users to search, browse, rate, and group multimedia files efficiently. It also helps streamline playlist creation, making it an ideal solution for individuals who work as DJs.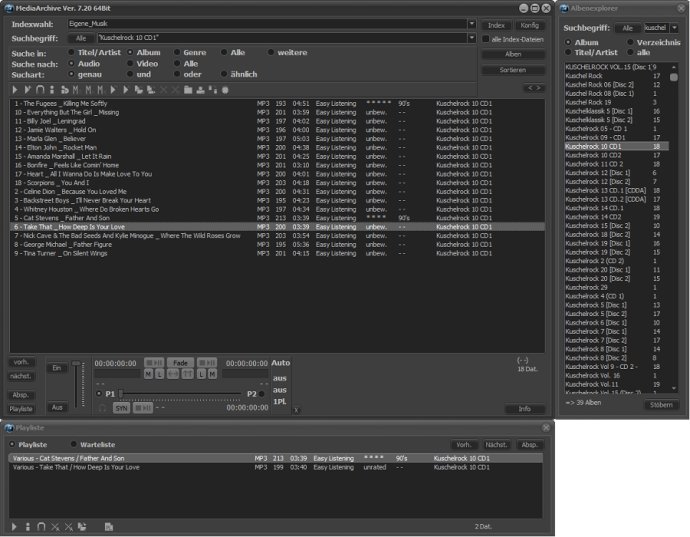 MediaArchive is a free media management system that combines all the necessary features in one software that is easy to use. It is perfect for managing your files on HDD, LAN, external drives, or CDs/DVDs. With the integrated tag editor, you can easily rate and group your media files. Additionally, you can comfortably browse through your media collections using the graphical browse function.

MediaArchive also comes with a dj/autodj function, which is great for your next private party. It allows you to use two remote-controlled players for crossfade and another one to preview songs on a second soundcard. The best part is that you don't need any external special hardware!

Furthermore, you can download accessories such as the Jingelplayer or Talkover and connect them with MediaArchive functions. The integrated Auto DJ MediaArchive can even mix and play an endless track from your favorite music independently. You can customize the interface to your needs by choosing from dozens of skins, thanks to the skinable surface feature.

Overall, MediaArchive is a reliable software that is perfect for managing your media files. With all its features, it is definitely worth a try.
What's New
Version 7.20: http://www.peter-ebe.de/MediaArchive/_changelog_mediaarchive.txt