Metamorphosec Dutch Sentence Scramble is a Windows software that helps to learn Dutch by rearranging scrambled words. It offers Training and Test modes and over 500 sentences to practice.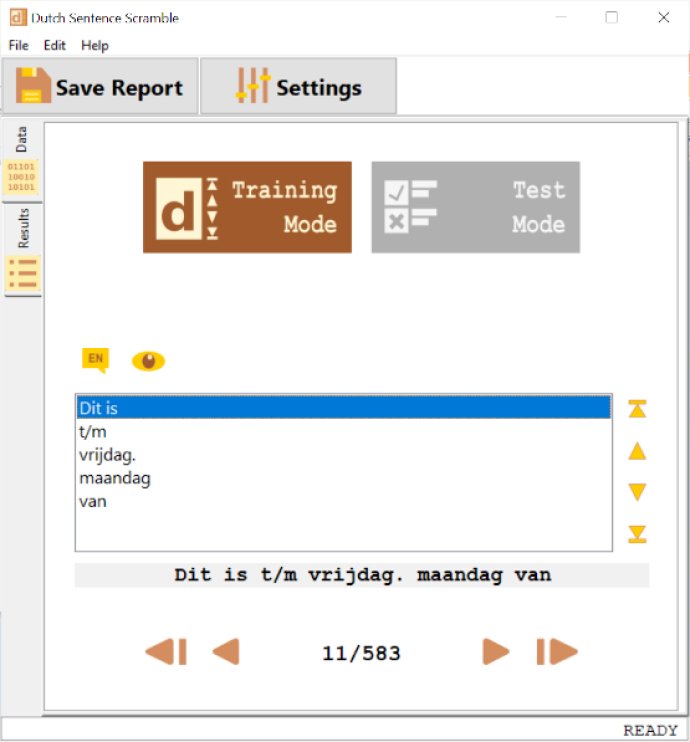 If you're looking for a software tool to help you learn Dutch, Metamorphosec Dutch Sentence Scramble might be just what you need. This application is designed for Windows users, and it focuses on teaching Dutch by allowing users to rearrange scrambled words to form meaningful sentences.

One of the standout features of Metamorphosec Dutch Sentence Scramble is that it comes with two modes of play: Training Mode and Test Mode. In Training Mode, users can play with over 500 sentences to get a feel for the language and become more comfortable with its structure.

Once users feel confident in their abilities, they can move on to Test Mode, which challenges them to create sentences using what they've learned. To make things more challenging, users can set higher Passing Grades.

However, it's worth noting that the UNREGISTERED Version of this software has some limitations. For example, it can only be used for Personal Use, and it only allows users to save files in the Saved Documents folder on the Desktop. Additionally, questions are limited to a maximum of 100 sentences in Training Mode and 10 sentences in Test Mode. The text input is also limited to 40 characters long, and the Settings are disabled.

To unlock the full range of features, users can purchase a License Key. In short, Metamorphosec Dutch Sentence Scramble is an excellent language-learning tool, with a range of features designed to make the process fun and engaging for users of all levels.
What's New
Version 1.0.0: https://metamorphosec.com/Files/Changelog/changelog_metssnl.txt