MIDI Tracker is a music editor software that enables users to create customized music. It allows importing and exporting of songs in MIDI format.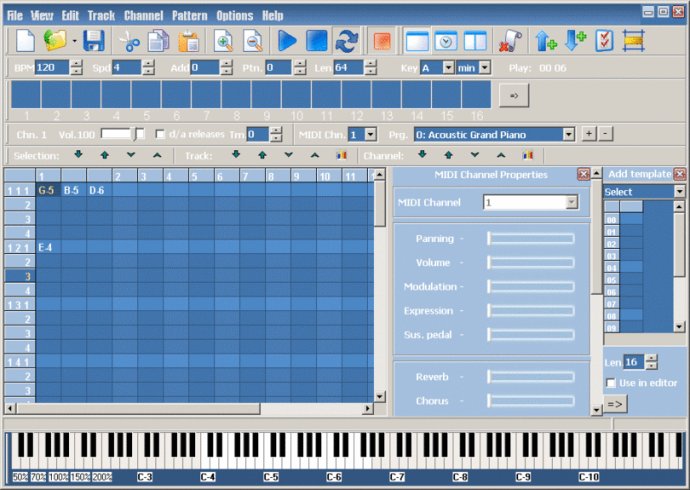 MIDI Tracker is a music editor with excellent features such as the ability to import and export songs to MIDI format. It supports 128 instruments, assigning volume and track count, and playing and editing notes by keyboard.

It is effortless to create a song by using different patterns without any copy/paste operations. MIDI Tracker is a continuation of popular music trackers such as FastTracker and ImpulseTracker, providing users with the same experience, but with added features.

You do not need any additional music equipment, except your sound card, to work with MIDI Tracker. You can play, edit, and record notes by pressing keys on your PC keyboard.

MIDI Tracker uses its file format for loading and saving, but it also has MIDI import and MIDI export functions to ensure compatibility with other systems. Additionally, the MIDI file size is optimized to keep it as small as possible. You can even import a FastTracker (XM) module and convert it to MIDI format.

Playing on MIDI Tracker is straightforward, and you can play on your keyboard like a MIDI keyboard with 32 keys and change the octave by pressing a single key (F1-F8). You can also use it with .SBK or .SF2 sound banks.

The small file size makes MIDI Tracker an excellent choice for music on mobile devices with limited memory. It also offers easy access to volume control and fast music production.

MIDI Tracker has a simple layout, with only two screens - pattern view and order view. Everything else is accessible from the toolbar, main menu, or shortcuts. It has various functions such as transpose track, pattern, channel, block up and down by halftone, enhanced transpose, add/remove track, add/remove channel, MIDI device choice, and more.

You can even choose patch, volume, disable and enable channels (mute, solo) from the toolbar while playing and inserting notes and chords. Jazz up your music with MIDI Tracker today!
What's New
Version 1.7.6: N/A
Version 1.7.5: N/A
Version 1.7.4: N/A
Version 1.7.2: N/A
Version 1.7.1: N/A
Version 1.6.4: N/A
Version 1.6.0: N/A
Version 1.5.7: N/A
Version 1.5.6: N/A
Version 1.5.5: N/A