MigMigi is a speedy download manager that prioritizes fast downloads by reusing existing connections, eliminating the need for user authentication. It is a powerful tool for efficient and speedy downloads.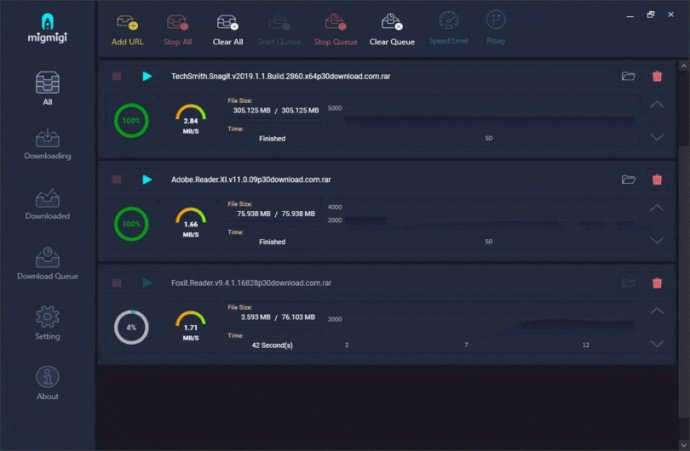 If you're looking for a fast and reliable download manager, MigMigi may be just what you need. This software includes a range of features that help to improve your download experience and make it more streamlined and efficient.

One of the key benefits of MigMigi Download Manager is its ability to boost your download speed. The software is designed to reuse available connections without any additional connect and login stages, which can help to speed up the download process significantly.

Another useful feature is the ability to queue downloads, which makes it easy to schedule your downloads at specific times. With the auto shutdown feature, you can even set a timer to shut down your computer or put it to sleep once the download process is complete.

MigMigi also supports popular browsers including Chrome and Mozilla, thanks to its useful browser extensions. Additionally, the software includes proxy support, which makes it easy to download files through a proxy tunnel and hide your IP address.

To help you manage your downloads more effectively, MigMigi includes a download limit feature that allows you to limit the number of megabytes downloaded per hour. You can also use Clipboard Setting to automatically download links stored in the clipboard.

With Drag and Drop functionality, you can easily move files around within the software, making it easier to organize and manage your downloads. Finally, Quick Update ensures that you're always running the latest version of MigMigi without any hassle. Overall, it's a great download manager with a range of useful features.
What's New
Version 1.9.7: Bug fixes and improvements
Version 1.9: Fixes and improvements
Version 1.8: N/A