"TreeView" is a free software offering a tree-view format to explore text file internals, highlighting selected nodes, searching within files, and saving desired content. It caters to individuals and qualified educational institutions, showcasing a convenient way to navigate and analyze text files.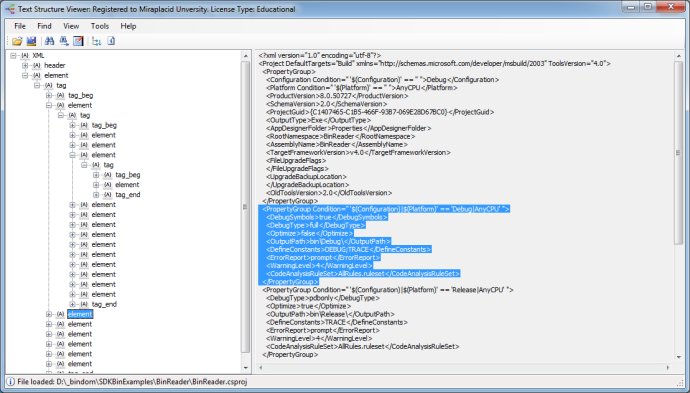 Miraplacid Text Viewer is a robust software application specifically designed for analyzing structured text files. It provides a comprehensive view of the file structure, conveniently presented as a tree, which greatly simplifies the analysis process. The viewer also enhances visibility by highlighting the selected tree item in the graphical panel. Moreover, it allows for easy searching of characters within the viewer by simply clicking on them in the tree.

In addition to its impeccable analysis capabilities, the software offers extensive search and navigation functionalities, making it an ideal choice for technical users. One standout feature is the ability to save selected text fragments to a file, saving users valuable time when working with large datasets. However, it is worth noting that the viewer's functionality is reliant on the file format, with both the Miraplacid Text DOM and Miraplacid Text Viewer relying on .tdd files.

These .tdd files contain definitions of the internal text file format, and without them, the software cannot operate correctly. Fortunately, all the .tdd files included in the Miraplacid software package are licensed under Creative Commons Share Alike CC BY-SA 3.0. This license grants users the freedom to modify the .tdd files and utilize them in their commercial products. This flexibility makes Miraplacid Text Viewer an attractive tool for software developers who require advanced text data manipulation technologies.

If you're in need of a text data manipulation technology for your software, the Miraplacid Binary and Text DOM SDK is an excellent option. It provides an appropriate library (BinaryDOM.dll), extensive documentation, and helpful examples, making it a compelling choice for software developers.

Overall, Miraplacid Text Viewer is an invaluable tool that not only streamlines the analysis of structured text files but also provides powerful features to facilitate data manipulation.
What's New
Version 3.2: Bugs and resource leaks fixed,resource usage optimized,new features provided
Version 3.1: bugs and resource leaks fixed, moved to newer .Net version