The Cell Phone SIM Card Data Retrieval Software is a forensic tool that recovers lost saved data including address book info, read/unread SMS, contact numbers with names, SIM IMSI numbers, and recent call information. Its services provide comprehensive information recovery.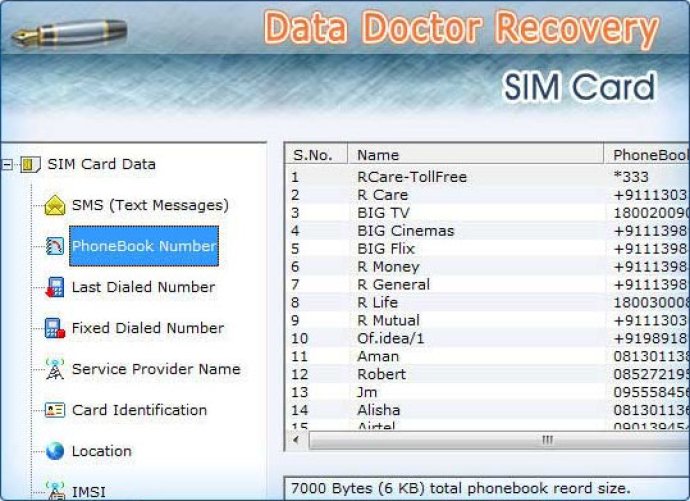 The Mobile Phone SIM card is a hardware device used by users to store important contact information such as name, short message services (SMS), address book, call list and other useful information. However, the corruption of the SIM card can lead to the loss of this important data which can be frustrating for the user.

This is where the SIM card data recovery software comes in to offer a perfect and advanced restoration tool. The software allows users to recover and restore their lost or deleted text messages, saved contacts with name, phone book information, fixed and last dialed number, and other useful information in just a few steps as described in the help manual.

The Mobile backup tool supports all 3G/GSM SIM cards from any service provider with any Phoenix type and PC/SC Standards based USB SIM card reader. The SIM SMS retrieval application helps to display the name of the service provider with area location, SIM IMSI number, ICCID (20 digit identification number) at the computer system screen and allows printing them on paper or saving them in txt file format at the user's specified location.

The software will not work with any password-protected SIM card or one that requires a PIN number to unlock. It also provides complete install and uninstall support. The SIM card erased data restoration tool provides a graphical user interface and supports all Microsoft Windows operating systems such as 98, 2000, 2003 server, NT, ME, XP professional, and all editions of Vista.

The SIM card data recovery software features numerous benefits such as compatibility with all GSM and 3G SIM cards worldwide, obtaining complete information of SIM card like IMSI number, ICCID number, name of mobile operator etc., printing out reports that contain recovered contact details, address book entries, recent call list information, providing the recovery of all previously saved SMS even if they contain Unicode character, and displaying entire details on the screen of a desktop or laptop computer.

The software also features a freeware demo version available with an inbuilt help option and supports all manufactures of USB SIM card reader hardware devices. Overall, the SIM card data recovery software is an excellent tool that offers convenience to users who have lost their important SIM card data.
What's New
Version 4.0.1.5: Added support for 3G/GSM mobile SIM card