Mosaic Creator is a comprehensive software tool for creating mosaics with complete user control. It offers various options to manipulate image rendering and create clickable thumbnails, and supports non-rectangular cell shapes like puzzle, hexagon, and triangle.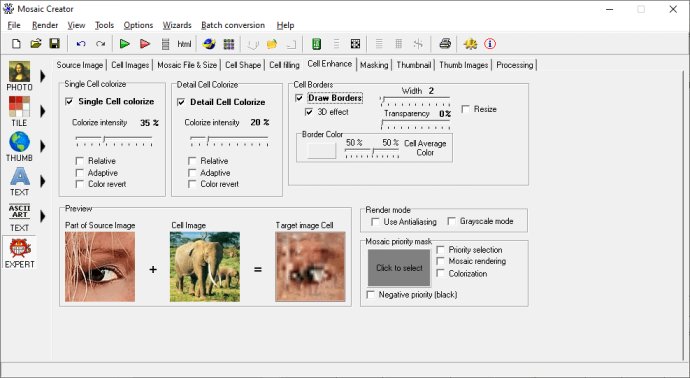 If you're looking for a professional tool to create picture mosaics and thumbnails with ease, look no further than Mosaic Creator. This software offers a full range of options to control the distribution of your images, and its enhanced rendering parameters allow you to create mosaics of any size with an unlimited number of images.

One unique feature of Mosaic Creator is its ability to support non-rectangular cells such as puzzle pieces, triangles, hexagons, and more. With over 60 free patterns included in the installation and a pattern editor available in the professional version, you can create your own custom patterns and designs.

But Mosaic Creator isn't just for picture mosaics – you can also create mosaics with a small set of images or clickable thumbnails from your photo collection. Images are enhanced with alpha masks and color masks to create stunning visuals, and you can even create HTML image galleries with just a few clicks.

With support for standard image formats including BMP, JPG, PNG, TIFF, TGA, PCX, WMF, and EMF, Mosaic Creator uses advanced algorithms to create incredible thumbnails that can't be matched by other software. And with multipage printing, you can easily render mosaic animations to AVI files or separated images.

For non-professional users, Mosaic Creator also includes a built-in wizard for creating picture mosaics and thumbnails. And while the trial version has a 10MB limit for result mosaic images, the full software offers unlimited creative possibilities for your images.
What's New
Version 3.4.0.1: N/A