MSD Organizer Portable Freeware is an all-in-one personal and professional information management tool, equipped with mail, tasks, calendar, contacts, alarms, notes, word processor, and image viewer for easy accessibility and streamlined organization.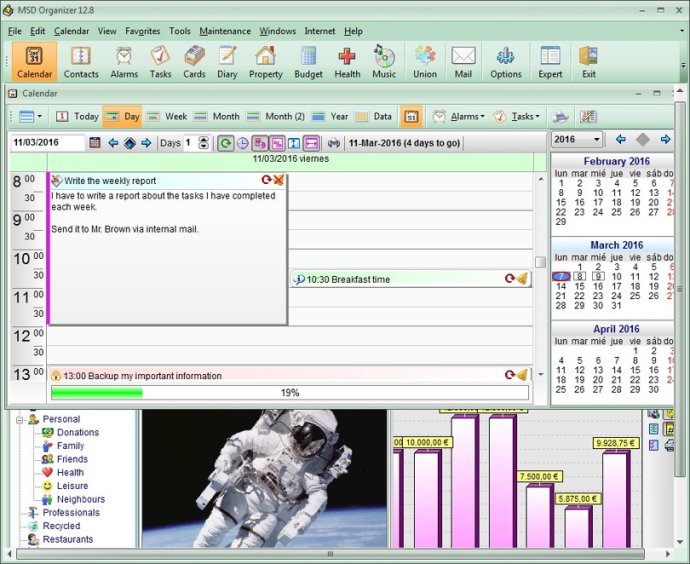 MSD Organizer Portable Freeware is a comprehensive and user-friendly personal and professional information management software that offers a range of impressive features. The software includes modules for managing mail, calendar, contacts, alarms, tasks, cards, diary, property, budget, health, music and union, all consolidated in one central location.

In addition, the multiuser version facilitates individual privacy while simultaneously providing access to shared information on the server for all MSD Organizer users. The software integrates with Google Contacts and Android devices, allowing users to synchronize their contacts easily. The program's Network messenger feature makes it easy for users to send private or broadcast messages to other software users in the local area network, with messages stored in trays, similar to email programs.

The program provides tools to communicate effectively with contacts via phone, web, electronic mail and SMS messages. Users may also send customizable emails to contacts and lists of contacts. Another unique feature is the program's unlimited history attribute, allowing users to store data records for an endless amount of time.

With support for favorites, including program records and groups, folders, programs, documents, phone numbers, web addresses, email addresses, and user-defined favorites, the user can easily configure the behavior and visual appearance of the program.

MSD Organizer Portable Freeware is easy to learn, with functional windows and controls. Users can easily filter and search for information using powerful tools intertwined with a relational database manager.

In terms of data security, the program includes password control and data encryption to ensure that information is protected during software execution and after the program is closed. Backups may also be password-protected. Additionally, tools are provided to allow users to exchange information with other software programs.

Overall, MSD Organizer Portable Freeware offers a complete solution with diverse sorting and classification possibilities, making it an excellent option for those looking for a reliable and efficient personal or professional information management software.
What's New
Version 13.2: Several improvements in Network messaging and Tasks
Version 13.1: Several improvements in modules Contacts and Alarms
Version 13.0: Several improvements in modules Emails, Calendar, Alarms and Tasks
Version 12.8: Improvements for better performance in Windows 10
Version 12.7: Google Contacts Synchronization has been improved
Version 12.6: Improvements in the Electronic Mail module
Version 12.5.1: All Modules are now available in the Freeware version
Version 12.5: New Electronic Mail module
Version 12.2.1: Improvements in the copy of the packed file to the cloud
Version 9.20: Active data filters in Property and Budget modules
Pocket-PC Synchronization
Data security improved