The MSG Converter Tool is a secure and efficient utility for converting MSF files to multiple formats, including MBOX, PST, EMLX, PDF, EML, Text, and HTML, among others.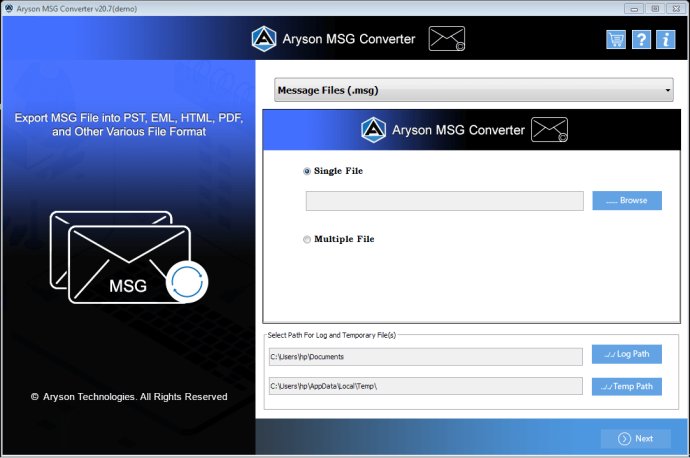 MSG Converter Tool is a powerful software utility designed to facilitate the easy migration of data from MSG files into various file formats and email clients. With the ability to convert both single and multiple MSG email files simultaneously, the application ensures efficient and hassle-free conversion. Its user-friendly graphical interface is designed to cater to both technical and non-technical users, making importing MSG files a breeze.

The tool's batch conversion feature allows users to convert multiple MSG files at once, saving time and effort. Additionally, its Naming Convention feature allows users to convert MSG files based on their subject data and from date, ensuring that the converted files remain organized and easily searchable. More importantly, the tool maintains data at its original size and ensures zero data loss.

Users can migrate a single MSG file or an entire MSG folder to different formats simultaneously. Furthermore, the tool includes a date range filter that allows users to extract emails based on the date, making it easier to sort and prioritize emails. With the ability to convert MSG files to formats such as PST, EML, EMLX, and others, MSG Converter Tool ensures seamless and efficient conversion.

To cater to users who are unsure about the tool's functionality, the software comes equipped with a free demo edition that allows users to convert up to 25 email items from MSG files and test the tool's functioning. The MSG migration tool is compatible with all Windows operating system editions and is a standalone application, eliminating the need to install an Outlook application.

In conclusion, MSG Converter Tool is a reliable and advanced software utility that simplifies the process of converting MSG files in bulk. Its user-friendly interface, efficient batch conversion feature, and compatibility with various file formats make it an excellent tool for facilitating email migration.
What's New
Version 21.1: Make some changes to enhance software performance.