MSN Spy Monitor is an undetectable spy software that allows for secret monitoring of MSN Messenger, Windows Live Messenger, and Windows Messenger chats. Besides recording incoming and outgoing messages, it can also block unwanted people and filter messages.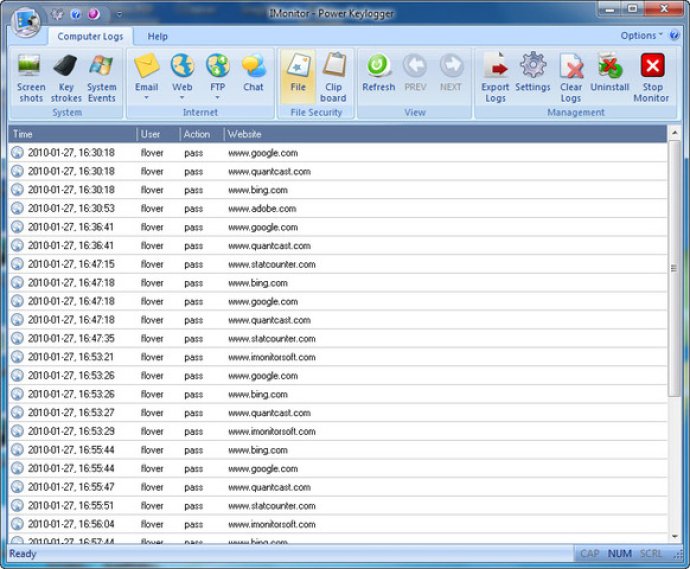 Looking for a reliable and high-quality MSN spy software for your home or office use? Look no further than MSN Spy Monitor. Designed with ease of use and effectiveness in mind, this software is perfect for anyone looking to log all chat conversations and block messages from unwanted people.

Using MSN Spy Monitor, you can secretly and invisibly record all MSN Messenger, Windows Live Messenger, and Windows Messenger's incoming and outgoing chat text messages. The software runs in complete stealth mode, so you can be sure that you're logging all activity without being detected.

In addition to logging chats, MSN Spy Monitor also allows you to block unwanted people and filter message content with pre-set keywords. You can even set up the software to send logging reports in text format to a pre-set email box, making it easier than ever to stay on top of what's happening on your network.

Some of the main features of MSN Spy Monitor include working in stealth mode, automatically capturing all incoming and outgoing chat conversations, blocking unwanted people with a pre-set contact list, and filtering message content with a pre-set keyword list. The software is also easy to set up and use, and allows you to export logs to HTML and Excel formats.

Best of all, MSN Spy Monitor runs absolutely invisibly under Windows systems, so only people who have the password can close the program. Whether you're running Windows 2000, XP, Vista, or Windows Server 2003, you can rely on MSN Spy Monitor to help you monitor activity on your network and keep your sensitive information safe and secure.
What's New
Version 3.0: N/A