Convert MSSQL databases to MySQL effortlessly with a powerful migration tool that carries across all data, attributes, and information. This software is compatible with all versions of MSSQL server and ensures total accuracy and integrity throughout the transfer process.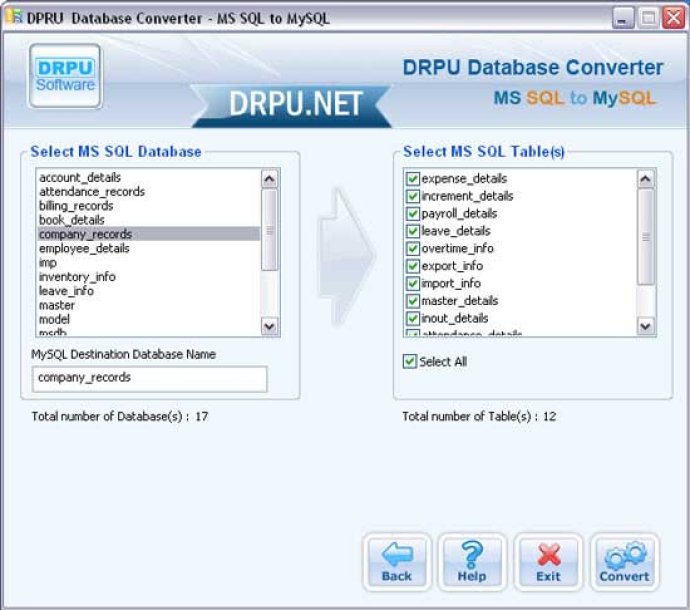 If you are looking to migrate your data from Microsoft SQL to MySQL, the Database Converter Software is an excellent choice. This software is specifically designed to convert all records and attributes of Microsoft SQL to MySQL, ensuring that you do not lose any critical information during the migration process.

One of the best features of this database migration utility is its ability to support null values, default values, primary keys, and foreign keys. You can migrate your entire database or select the specific information you need to convert.

The MSSQL to MySQL converter software is capable of synchronizing MSSQL databases into MySQL, and it does not change the relationship among rows and columns after conversion. This ensures that you maintain the integrity of your data.

The software is very user-friendly, and the graphical user interface makes it easy to use. It supports all versions of MSSQL server and runs on Windows XP, 2000, 2003, ME, 98, and Windows Vista. Additionally, it can convert large amounts of data as per your requirements.

Another useful feature of this database conversion tool is its ability to overwrite the converted database with the existing database. This makes it easier to manage your data after the migration process is complete.

Overall, if you are looking for a reliable and easy-to-use database conversion tool to migrate your data from MSSQL to MySQL, this software is an excellent choice. It provides you with all the necessary tools and features to ensure that your migration process is seamless and error-free.
What's New
Version 5.8.3.1: Added support to Windows Vista operating system