"Collaborate with your teammate and create strong canastas using our software, empowering your gameplay." (20 words)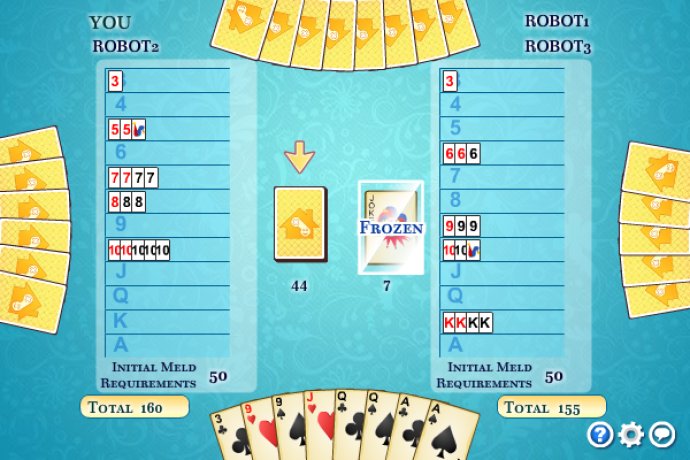 If you are looking for a fun and challenging game that requires smart thinking and teamwork, then this software is a must-play. In this 4-player game, your objective is to form canastas by grouping at least 7 cards of the same rank and then "going out". The game uses 2 decks of playing cards and 4 jokers, and two players sitting opposite to each other will team up to create 2 partnerships.

At the start of each hand, each player will receive 11 cards, and then 1 face-up card will be dealt to the discard pile in the middle of the screen while the remaining face-down cards will be placed on the left of the discard pile. The two teams can place the legitimate cards onto the tables, which are located on the two sides of the screen.

However, not all cards can be used to form canastas. For instance, all 3's cannot be included in the group, and if a player is dealt a red 3, it will be automatically transferred to the corresponding table of the team, and another card will be dealt to the player.

Before forming canastas, you need to use your cards to form melds. The 2's and jokers are wild cards, and a meld can include at most 2 wild cards and at least 2 natural cards. Note that the very first meld that a team forms must fulfill the initial requirement as indicated at the bottom of the team's table, which is 50 points.

Moreover, each card has a specific point value. In each meld, each 4, 5, 6, and 7 is worth 5 points; each 8, 9, 10, J, Q, and K is worth 10 points; each A and 2 is worth 20 points; and each joker is worth 50 points.

During your turn, you need to pick either the topmost card on the discard pile or the topmost card on the stockpile. Note that you can only pick the topmost card on the discard pile if it can form a meld with cards in your hand or be combined with an existing meld. After that, you can click and drag the cards to the corresponding positions on the table of your team, and then you need to click and drag a card from your hand to the discard pile to end your turn.

Overall, this software provides an exciting and challenging experience that requires players to think strategically and work together to achieve the ultimate goal of forming canastas. With its intuitive interface and easy-to-follow rules, this game is perfect for players of all skill levels. Try it out today and see how well you can demonstrate your clever teamwork and use of the wild cards!
What's New
Version 1.7.0: Fixed a bug where robots may form incomplete melds