myPM SCG Pro is a software application for MS Windows that provides essential statistics for projects and tasks with S Curves and Histograms. This software helps to analyze the project's progress, growth, and slippage with ease.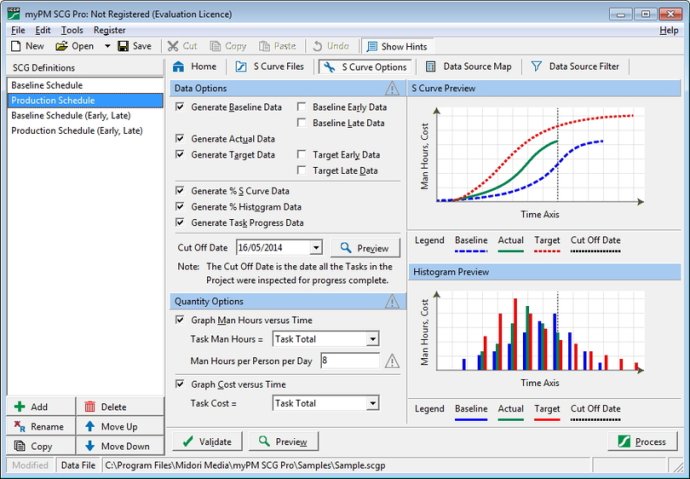 The myPM SCG Pro software application for MS Windows seamlessly integrates with MS Excel to create intuitive Project and Task Statistics, S Curves, and Histograms. These features give you invaluable insights into your Projects and enable you to analyze their health accurately.

This software solution provides a comprehensive answer to a range of project management challenges. For example, the Tendering Officer can use myPM SCG Pro to generate Baseline Statistics, S Curves, and Histograms for comparing early/late start/finish baseline schedules. The Project Scheduler can get Early-Late Start-Finish data from the tool to determine the impact of starting tasks earlier or later than scheduled.

With this software tool, the Project Supervisor can access information on tasks starting, being in progress, or finishing on a given day, which assists in organizing man power, materials, and transport effectively. Project Managers can use the tool to track Tasks with increases in duration, man-hours, or cost, enabling them to raise variations.

Thanks to myPM SCG Pro, the Construction Manager can independently view Project S Curves and Histograms en-route to ensuring the project's completion on time and on budget. This software solution is compatible with a range of requirements, such as generating Target Early and Target Late Statistics, S Curves, and Histograms.

You can purchase a license or subscription for myPM SCG Pro effortlessly at the Midori Media website (www.midorimedia.com). For an in-depth look at myPM SCG Pro's offerings, visit www.mypmscg.com.
What's New
Version 7.2.0.0: Added support for Single User Subscription, Multi User Subscription (SaaS)