NBX Audio Converter is a comprehensive software that efficiently converts audio files between multiple formats such as MP3, WAV, OGG, WMA, and VOX. It supports various conversions, including MP3 to MP3 and WAV to OGG, among others.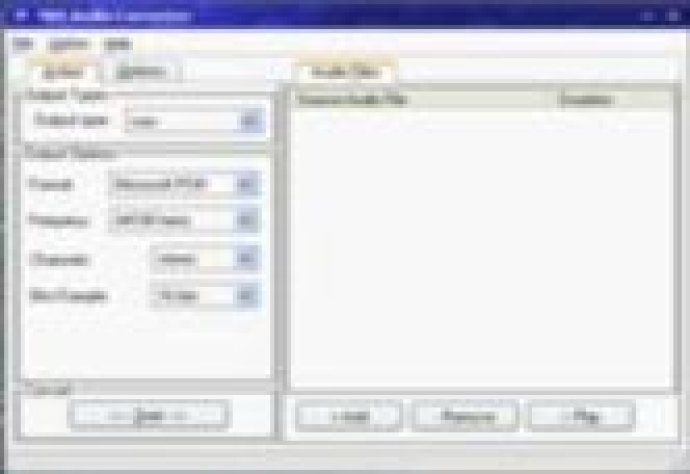 If you're on the hunt for a reliable audio converter, NBX Audio Converter is definitely worth considering. This ALL-in-ONE tool allows you to convert audio files between popular formats like MP3, WAV, OGG, WMA, and VOX. No matter what kind of audio file you're dealing with, NBX Audio Converter has got you covered.

One of the great benefits of this software is that it contains all the features of NBFree MP3 to WAV Converter, NBFree MP3 to WMA Converter, and NBFree WMA to MP3 Converter. Plus, there are plenty of additional features to explore.

For example, you can choose from different output WAV formats, including Microsoft PCM, Microsoft ADPCM, DSP Group TrueSpeech, and GSM. In addition, you can adjust the frequency, channel, and bits per sample to suit your needs.

The mp3 lame encoder is also quite powerful. With HighPass and LowPass filters, CBR, ABR, and VBR encoding options, and 16 different MP3 format presets, you can get the exact output you're looking for.

But that's not all. NBX Audio Converter can also change OGG frequency, channel, nominal bitrate with VBR enabled, and quality enabled. You can even adjust the VOX audio frequency to your liking.

The software also includes a built-in audio player that can handle MP3, MP2, MP1, MPEG, WAV, OGG, WMA, and VOX files. That means you can preview your audio before converting it.

Finally, NBX Audio Converter has some convenient file management features. You can choose to auto-rename, skip, or overwrite existing files as needed. Overall, this software is a solid choice for anyone who needs to convert between different audio formats.
What's New
Version 2.0: N/A