Netsend.exe is a small console utility that allows sending messages from the command line. This software works on all Windows versions and is similar to the Net send command on Windows NT, 2000, XP and 2003 Server.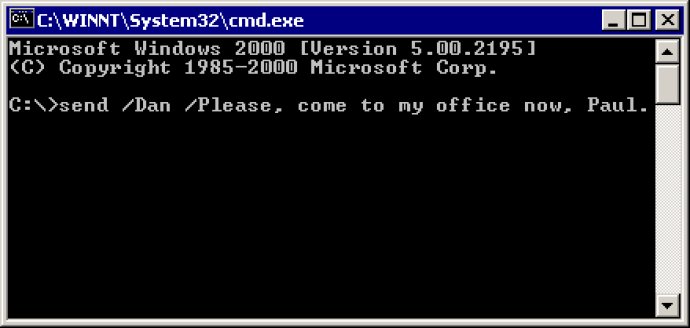 I recently came across a compact console utility called Netsend.exe that I found to be very useful. One of its key features is the ability to send messages from the command line, much like the Net send command in various Windows operating systems such as Windows NT, Windows 2000, Windows XP and Windows 2003 Server. However, what sets this utility apart is that it works across all Windows versions.

If you're used to using Winpopup and the Net send command, you'll be happy to know that Netsend.exe is fully compatible with them. Its simple command line interface means that it's easy to use, and it gets the job done efficiently. One other advantage is that the executable file size is fairly small, making it easy to download and use on multiple machines without taking up too much space.

All in all, Netsend.exe is a solid option for anyone looking for a reliable tool for sending messages via the command line. Its versatility across different Windows versions, compatibility with known messaging tools, and straightforward usage make it a worthwhile addition to any user's software toolkit.
What's New
Version 1.1.584: N/A