This software allows real-time monitoring of bandwidth usage and control of internet access for each application installed on a computer. It optimizes connection speed, improves privacy and security, and provides comprehensive reports. It also enables the management of multiple computers from a single location.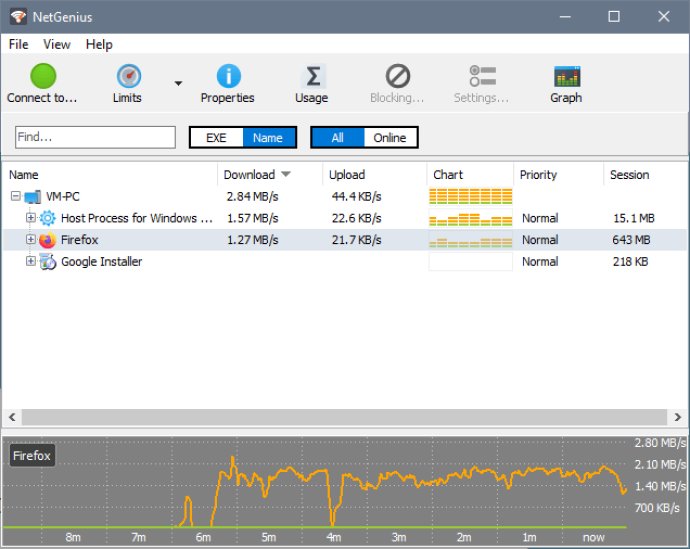 If you're in need of a dependable Internet connection monitoring tool, then you might find NetGenius to be the ideal solution. This impressive software boasts a wide range of features tailored to streamline your online experience effectively. Upon using NetGenius, the first aspect which becomes apparent is that it's a remarkably modern and powerful application.

Users will appreciate the software's easy-to-use interface, which can keep an eye on every application installed on their computer in real-time. By doing so, they can maintain control over their online access to prevent lags in speed, especially when it comes to more important apps.

One of the most useful features offered by NetGenius is its bandwidth prioritisation. This feature is perfect for situations when you want key apps to have higher priority status than others. Caps and limits can be applied to apps that don't need to consume as much bandwidth, which will help ensure that you get a smoother experience when you're online.

Furthermore, NetGenius also boasts firewall functionality, which enables it to block unwanted applications. This feature also helps to improve your privacy and security online. NetGenius provides traffic usage reports for any time period, which makes it easy for you to identify any issues promptly.

Lastly, NetGenius offers excellent value by providing multi-computer support. Installing it on multiple devices and managing them from one central location is simple, allowing you to increase efficiency effectively. You can download NetGenius from www.softperfect.com, and get started on monitoring your network today.
What's New
Version 1.1.2: N/A