Network Monitor II (wired and wireless) displays real-time internet connection data, including SSID, signal quality, Internal and External IP addresses with country flags, as well as upload and download speeds, network utilization, and total usage.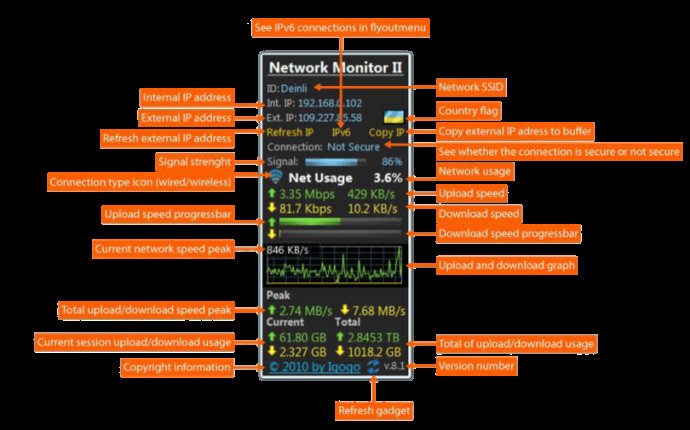 I recently came across the Network Monitor II and decided to give it a try. After using it for a few days, I must say that I am quite impressed with what it has to offer.

One of the best things about this software is that it shows you detailed information about your network connection. For example, it displays your SSID, signal quality, internal IP address, external IP address (along with your country flag), as well as your network utilization, upload speed, download speed, and total usage (both current session and global).

What's more, you don't need any third-party applications to use the Network Monitor II. It is completely self-contained and runs smoothly on its own. It's also resizable, so you can customize it to fit your preferences.

Another great feature of the Network Monitor II is that you can save your settings to a file for future use. The file will be created in the %APPDATA% directory and will be called gadgetname_Settings.ini.

One thing that really sets this software apart is its two modes. This allows you to see the information you need at a glance, whether you're in basic or advanced mode.

Additionally, you can customize the color of every element on the interface, including the background. This is a nice touch that allows you to create a personalized look and feel that suits your tastes.

Other features of the Network Monitor II include the ability to display both internal and external IP addresses, as well as download speed, upload speed, net usage, and total downloaded / uploaded bytes. It also supports both wired and wireless networks.

You can even save traffic counters to an external file, as well as set up an auto-update feature that will keep the software current with internal and external IP changes.

Overall, I would highly recommend the Network Monitor II to anyone looking for a comprehensive and user-friendly network monitoring solution. It's loaded with features and is very easy to use. Plus, it's completely free!
What's New
Version 30.5: N/A
Version 30.2: N/A
Version 30.1: N/A
Version 30.0: N/A
Version 29.9: N/A
Version 29.8: N/A
Version 29.5: N/A
Version 29.4: N/A
Version 29.3: N/A
Version 29.1: N/A