NEWT Professional allows remote scanning of networked machines for comprehensive inventory data in just minutes. Saving time and effort, it eliminates the need to physically visit each computer.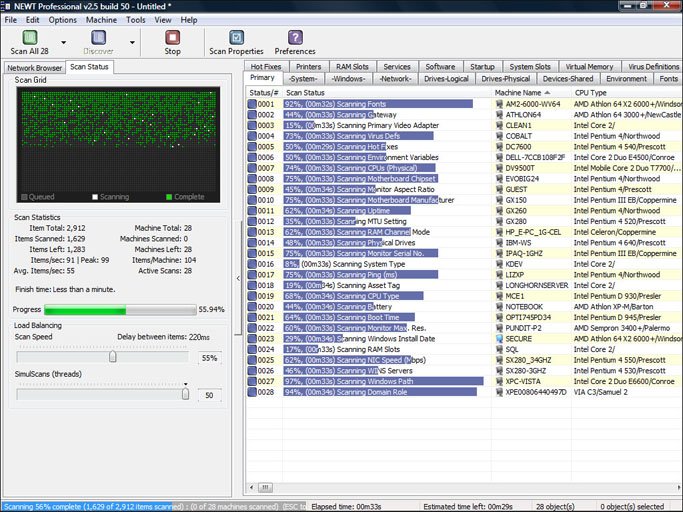 If you're in search of an inventory tool that'll help you identify and manage all the computers on your network, you should check out NEWT Professional. This incredible tool is powerful enough to collect all the relevant hardware and software information from remote machines without you needing to move an inch.

NEWT is designed to utilize advanced audit methods, which makes information retrieval a lot easier. You can store your collected data in an easy-to-read spreadsheet format and even export all the information to a Microsoft Access database, where you can generate queries.

NEWT has been designed to collect an extensive range of information, from the CPU type, speed, and cores to temperature, Windows product keys, IP addresses, network adapters, serial numbers, asset tags, video adapters, audio cards, computer monitor information, hard drive size, type, and SMART health status. You can also expect the tool to gather information on logical and network drives, network share information, memory slots, hotfix information, printers, Windows services, fonts, environment variables, system slots, virus definitions, startup programs, and others.

All the information you collect can easily be exported to a variety of formats, including CSV, HTML, text files, or fully relational MS Access databases. Overall, NEWT is an all-in-one inventory tool that lets you manage your network efficiently without too much hassle.
What's New
Version 2.5.370: Fixed timeouts on some PCs, Improved scan reliability, Updated MAC Address DB
Version 2.5.369: Fixed major issue related to MAC addresses where devices would show as Unknown. This was caused by a corrupt MAC Address database.
Version 2.5.368: Fixed issues related to Windows 11, updated MAC Address DB