NFOPad is a customizable nfo viewer and text editor, serving as a clone of Microsoft's Notepad. Supporting both ANSI and ASCII font through file extension, it also provides complete Unicode support to its users.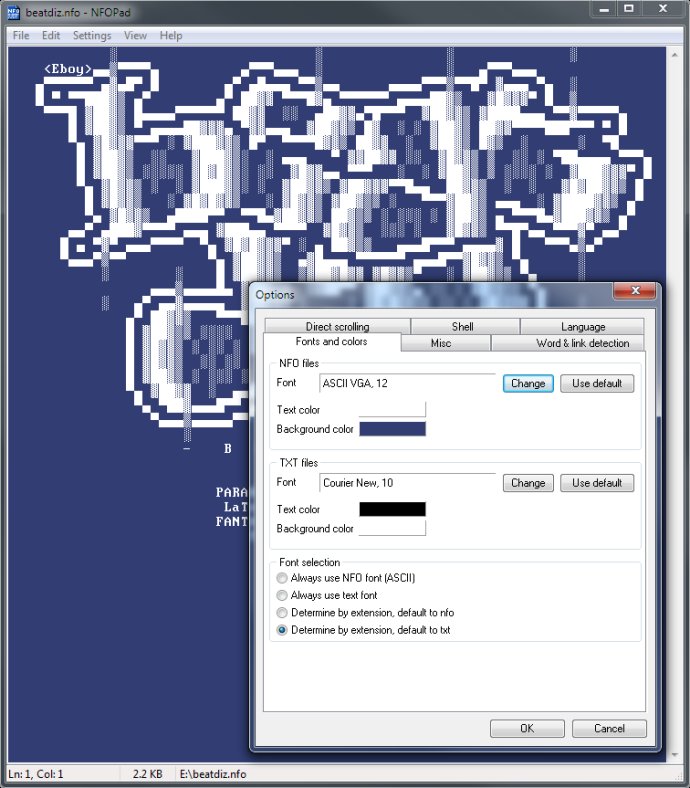 NFOPad is a great software for those who are searching for a small, fast, and flexible combined nfo viewer and text editor. It is designed as a clone of Microsoft's Notepad but provides more customization and additional features to its users. This software is not only capable of handling simple text files, but it can also view nfo files with ASCII art. Moreover, the file extension determines whether it should use an ANSI or ASCII font, making it easier to read and understand.

NFOPad is equipped with a wide range of features that make it stand out from the rest. Firstly, it has hyperlink and e-mail detection, making it easier to click on links directly from the software. Additionally, it is highly customizable, allowing the user to adjust fonts, colors, and application settings to their liking. The software also has improved word selection on double-click and on CTRL selecting, triple-click for line selection, and sort selected lines A->Z.

Other notable features include text zooming, tab indents selection, add specified string to start of selected line, Unicode support, window auto-width, recently opened files list, copy on select option, ASCII fonts for nfo files, direct scrolling, tab width setting, and more. The software is also portable and has close on ESC key and alpha blend support. It is localized in Brazilian Portuguese, Chinese, English, French, German, Hungarian, Italian, Korean, Polish, Portuguese, Russian, Slovak, Spanish, Swedish, and Ukrainian languages, making it easier for non-English speakers to use.

Furthermore, the software has shell integration, which is optional, and extension determines font. It also has searching & replacing text, printing, insert/overwrite mode, go-to-line, delete line, drag-n-drop, open next/previous file in the directory of the currently open file, always on top option, and word wrap option. Additionally, it has Microsoft Notepad's .LOG functionality, which can be useful for debugging purposes.

Overall, NFOPad is a great software for those who want a fast and flexible combined nfo viewer and text editor. It is loaded with features that make it easier to use and customize. It also has support for various languages, making it accessible to a wider audience. So, if you want a text editor software that can handle nfo files with ASCII art, then NFOPad could be an excellent choice for you.
What's New
Version 1.8: Support for zooming the text, icons updated to 256x256, support for adding prefix to selected lines, many small fixes
Version 1.75: Added triple click to select line, tweaks and fixes
Version 1.74: Improved unicode detection, viewing of non-text improved, paste text with non-windows line endings fixed, fixed replace all not working if clipboard was locked, minor fixes and improvements
Version 1.73: Sort selected lines A->Z, scrolled position better preserved on reopen files, several bugfixes, etc
Version 1.72: tabify selection, hebrew localization added, url detection improvements, tweaks and fixes
Version 1.68: Italian localization added, minor fixes