Nostalgia Simulation Baseball is a robust baseball simulation game that caters to baseball lovers, offering an immersive experience.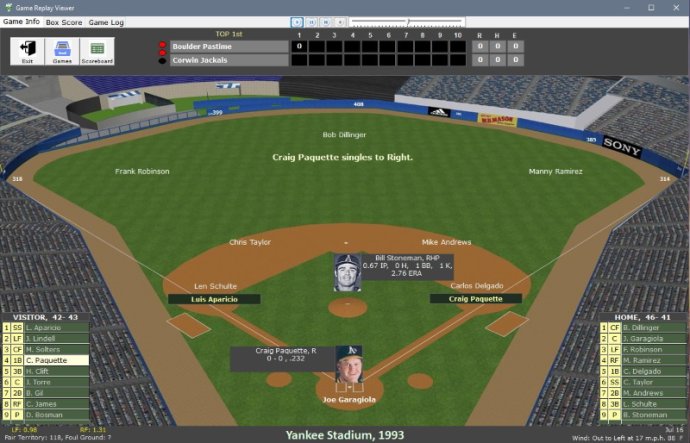 Nostalgia Simulation Baseball is a must-have software for baseball enthusiasts. It offers an unparalleled challenge - to create and manage a winning franchise as a baseball owner. Whether you're a fan of the dead ball era or the modern game, you'll find a free sim league that meets your preferences.

This feature-rich software package puts you in the driver's seat, giving you complete control over all aspects of your team. From setting player strategies to managing team finances, conducting drafts, trades, and waivers, and even award voting, everything is at your fingertips.

Thanks to seamless communication with our server, you'll always be connected to the live competition with other owners for the league championship. With Nostalgia Simulation Baseball, you can experience the excitement of managing a successful baseball franchise from the comfort of your computer.
What's New
Version 7.10.1: Added Career Database
Made All players draft-able in Career mode if desired
Added option to use Negro Leagues as Auxiliary Roster
Reconfigured the NSB era breaks to even out player distributions
Version 7.0.9: Added Career Database
Made All players draft-able in Career mode if desired
Added option to use Negro Leagues as Auxiliary Roster
Reconfigured the NSB era breaks to even out player distributions
Failed Trades with League Owned teams no longer deduct from Owner's Total Trade Allowance
And more
Version 7.0.5: Changed Ball Park Correction Factors to a 3-year regressed average for greater realism
Added more park details about your park in the Ballparks Window
Added Ejections to the Sim (based on actual historical data)
Stored Player photos in database instead of a loose collection of files
And more