NTv2Poly is a spatial software that converts rectangular activity scope in NTv2 files into a Polygonal Validity Scope using a shape file. This replacement results in a more accurate representation of geographical areas.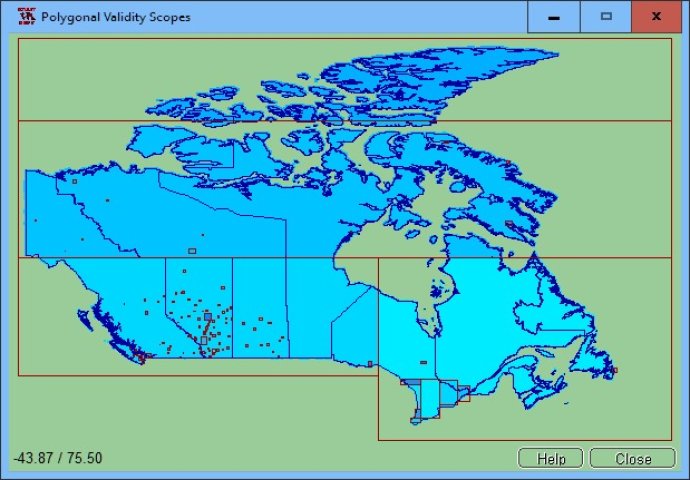 If you're looking for a powerful spatial software solution, consider NTv2Poly. This software replaces the standard rectangular activity scope in NTv2 files with a Polygonal Validity Scope, which can be defined with an outline file in classic Shape Format. With this feature, invalid calculations that fall outside the Polygonal Validity Scope can be easily excluded or acknowledged with a warning.

To try out the software for yourself, simply download the trial version from our website. Once you're up and running, be sure to check out our detailed Worksheet to learn more about how to use NTv2Poly to its fullest potential.

One of the primary benefits of NTv2 files is that they provide incredibly accurate point transformations from one coordinate reference system to another. Each NTv2 file contains one or more coordinate grids that are defined in the NTv2 headers. However, many projects require more complex boundaries than a simple rectangle can provide. For example, you may need to create a quasi-polygonal area to cover a state territory within your country's borders.

Thankfully, NTv2Poly makes it easy to create these polygonal areas. By implementing Polygonal Validity Scopes in NTv2 files, coordinates that fall outside the validity scope can be automatically excluded from your calculations. This feature is compatible with a wide range of geospatial software, including TRANSDAT and GeoDLL, as well as many GIS programs that support Polygonal Validity Scopes.

To create a Polygonal Validity Scope, simply use a shape file that contains the outlines of the scope as polygons. The Shape file format, which was developed by ESRI, is an ideal format for storing geographical objects. For example, you can store the border outlines of a country in a shape file, which can then be used as the polygonal scope for your NTv2 file.

NTv2Poly is designed to make the process of overlaying polygons and rectangular surfaces easy and intuitive. The program comes with a user-selectable multi language interface and extensive online help, so you can get up to speed quickly. And because it can be run on most common networks and even supports Terminal Services on WINDOWS Servers, you can use NTv2Poly on practically any system.
What's New
Version 4.02: Program is faster and more stable with a new development system. New worksheet about the utilization of the program NTv2Poly. Added NTv2 and shape files from Canada and Germany for testing. Fixed problem processing of very large NTv2 and shape files. Added a new graphics window "Area Distribution".