1+2 is an accurate numerology software that helps understand personality. It presents information in four tabs, covering core numbers, details, cycles, and mate compatibility, making it a complete tool.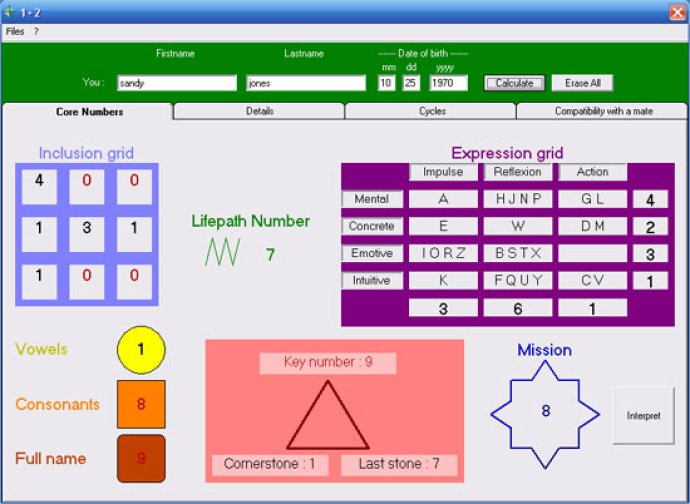 If you're into numerology, 1+2 is the software you need to really understand your personality. It's incredibly accurate and complete, with all the information you'll need to make the most out of your reading.

The program is divided into four easy-to-use tabs: core numbers, details, cycles, and compatibility with a mate. Each section explores a different aspect of your numerological makeup, revealing everything from your karma to your aptitudes.

In the core numbers section, you'll find a comprehensive breakdown of the most important numbers that make up your personality. The details section, on the other hand, provides a more in-depth analysis of each individual number, giving you a better understanding of what they mean and how they impact your life.

The cycles section is where things get really interesting. This part of the software shows you the cycles you'll go through in life, and what to expect during each phase. It's a great way to gain insight into the future and prepare yourself for what's to come.

Finally, the compatibility with a mate tab helps you understand how your numerology matches up with your partner's. This section provides a comprehensive analysis of your compatibility, including strengths, weaknesses, and potential areas of conflict.

Overall, 1+2 is one of the most complete and accurate numerology software programs available. With its easy-to-use interface and detailed analysis, it's the perfect tool to help you gain a deeper understanding of yourself and your relationships.
What's New
Version 3.0: N/A