OddStorm is a rapid sports arbitrage software facilitating betting and winning regardless of outcomes. It provides direct navigation to event pages and allows users to simply enter the amount and place a bet.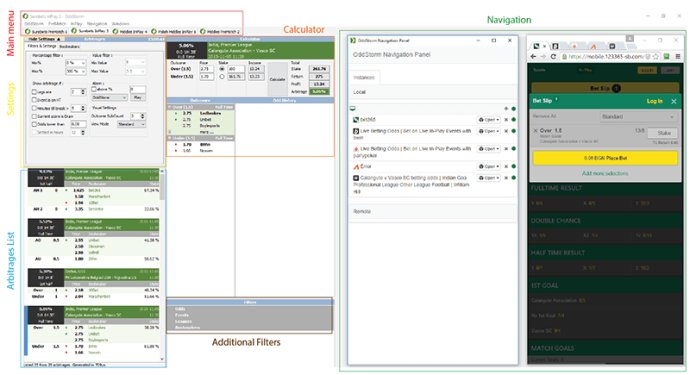 If you're looking for a revolution in the world of gambling, OddStorm is the tool you need. This software helps you turn gambling into a clever investment strategy, allowing you to make a profit by betting on sports results and win, no matter what happens. Sounds too good to be true? Well, it's not, and here's how it works.

OddStorm identifies arbitrage situations between two or more bookmakers and calculates how much you need to bet on each result. Once you've chosen your sure bet, the software navigates you to the betting event page with a single click. All you need to do is enter the amount you wish to bet and click 'bet'. It's that simple.

What's great about OddStorm is that it's the fastest sure bets delivery service in the world. This means you'll see arbitrage situations before anyone else, and speed is crucial in sports arbitrage. While the profit from a single arbitrage situation may be small, if you do this several times a day, it can quickly become a reliable way to make a sure profit.

Since 2006, OddStorm has been gaining more and more attention, and hundreds of customers have taken advantage of this wonderful software, turning it into their primary business. So, if you're looking for a way to turn gambling into a profitable investment, give OddStorm a try.
What's New
Version 2.4.4: InPlay and PreMatch Surebets
Auto Navigation