Convert OFX transactions into QIF files to import into various financial software including Quicken, Banktivity, LessAccounting, YNAB, NetSuite, MYOB, and AceMoney. Create compatible QIF files for Quicken from unsupported formats.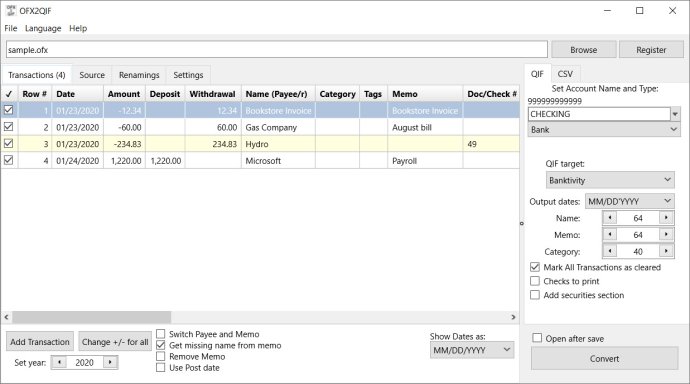 If you're struggling with importing transactions due to unsupported formats, look no further! With the OFX to QIF converter, you can easily create importable QIF files for a variety of accounting software, including Quicken PC (2005-2020), Banktivity, Quicken 2007 Mac, LessAccounting, YNAB, NetSuite, MYOB, and AceMoney.

With this software, you'll have the ability to select the compatible QIF variant for your specific accounting software, ensuring a smooth and accurate import process. You can even review transactions in a readable view before converting, giving you the confidence to proceed without worry.

If you're unsure about investing in this software, a free trial is available for up to 10 transactions per converted file. Plus, customer support is available both before and after purchase, with a knowledge base that provides solutions for similar conversions and a question-and-answer page to get help from both developers and other users.

Buy with confidence, as this software comes with a 14-day money-back guarantee. Don't waste time with data entry and manual errors - streamline your accounting processes with the OFX to QIF converter.
What's New
Version 4.0.72: Maintenance release