Protect Oracle databases with built-in security including access control, real-time protection and continuous audit monitoring. Sustain robust security with duty separation and privileged account control, integrated with Splunk SIEM. Security applied to the database's core for maximum protection. Only 50 words.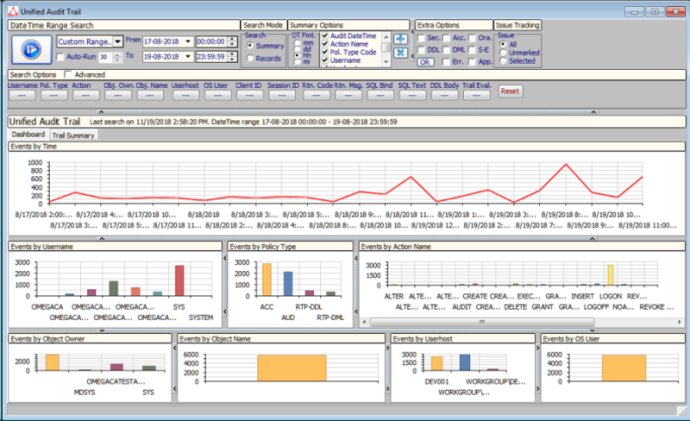 Omega Core Audit is a powerful security and compliance solution for Oracle databases. As an out-of-box, software-only solution, it can be installed quickly and easily managed through its intuitive application interface. The solution leverages state-of-the-art programming and automation to enhance the native security features of Oracle, freeing users to focus on conceptual security tasks rather than complex technical configurations.

By applying security at the core, within the database, Omega Core Audit ensures a consistently high level of compliance from all possible connection directions, applications, users, and devices. It also offers immediate auditing and protection actions before users execute actions or transactions. The solution does not interfere with existing functionalities and requires only minimal changes in existing security configurations.

The solution's main software modules address critical compliance requirements, including access control, continuous auditing monitoring, and real-time protection for data definition and manipulation commands. All modules are integrated into a central solution and operate in real-time. Security controls are implemented through a policy-rule-condition schema, with multi-factor authorization of user and environment values performed in real-time.

Omega Core Audit's flexible event trail searching and data export capabilities in common formats like Text, XLS, and XML allow users to analyze the security information events and track activity inside the database. The solution's dynamic reports provide clear insights into compliance and security.

Finally, Omega Core Audit features built-in integration with Splunk, eliminating the need for third-party tools. The Omega Core Audit App for Splunk, available at our site and Splunkbase, provides further integration and enhances Splunk support. Overall, Omega Core Audit is a comprehensive solution that streamlines compliance and security management for Oracle databases.
What's New
Version 3.3.3: Spunk built-in interface fixes.
Version 3.3.1: Spunk built-in interface fixes.
Version 3.3.0: Spunk built-in interface fixes.