One Locker is a password and pattern based App Lock and App Protector for Android phones. It can secure contacts, e-mail, SMS, photos, settings, and other apps/games on your device.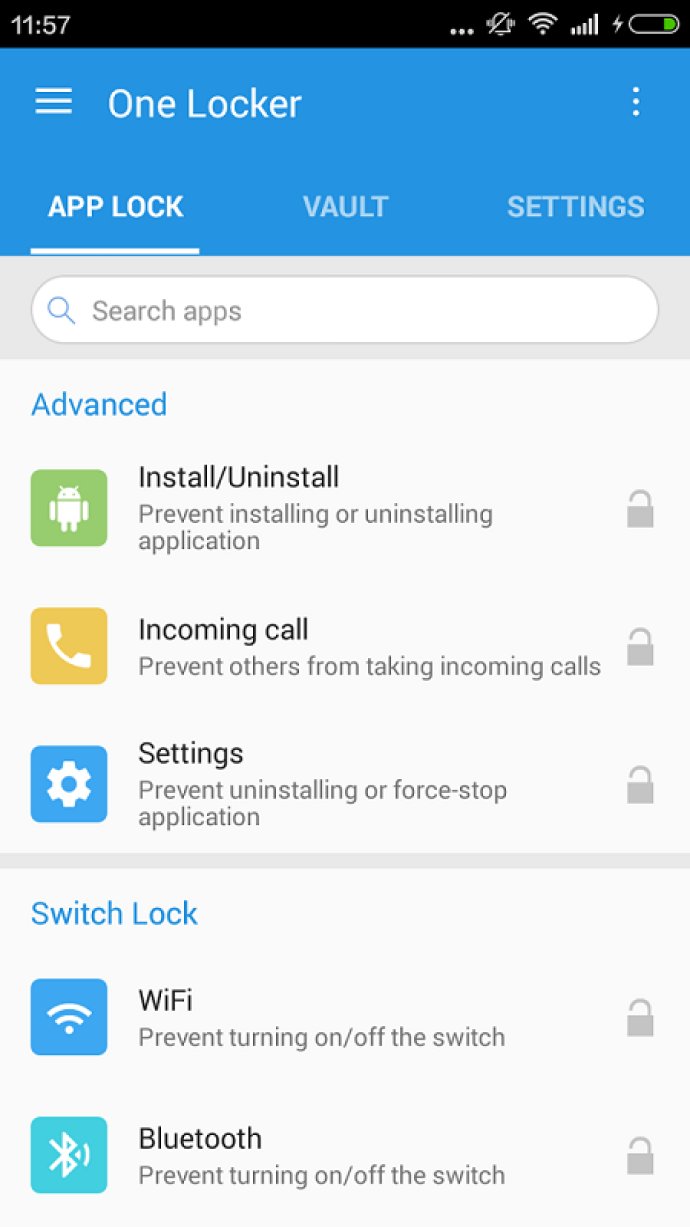 One Locker is a useful app lock and app protector that allows you to protect your apps with a password or pattern. You can use One Locker to lock and secure your contacts, incoming calls, email, SMS, settings, photos or any other apps or games on your Android phone. This app is perfect for anyone who values their privacy and wants to prevent others from accessing their private data.

With One Locker, you don't have to worry about kids changing your settings or playing games on your phone. This app comes with a range of features that help protect your privacy and keep your phone secure. For example, the app lock feature lets you lock any apps, including system apps and third-party apps, with just one click. The app also includes advanced protection that prevents One Locker from being uninstalled without a password.

One Locker also includes several other useful features, such as a photo and video vault that allows you to hide your private photos and videos. You can also lock your settings to prevent system modifications, and lock your WiFi, Bluetooth, mobile network data, and auto-sync. Additionally, One Locker allows you to set lock times, so you can activate the lock at certain times of the day.

If you have any questions about One Locker, the app includes a helpful FAQ section that answers common questions. For instance, if you're worried about someone uninstalling One Locker, you can enable advanced mode to prevent this from happening. If the app stops working, it could be because a cleaning app wiped out the data. In this case, you just need to re-run One Locker after cleaning your phone.

Overall, One Locker is a great app for anyone who wants to protect their privacy and keep their phone secure. Thanks to its range of useful features and easy-to-use interface, One Locker is a top choice for anyone who values their privacy and wants to prevent others from accessing their private data.
What's New
Version 1.1.9: One Locker 1.1.9:
Improved UI;
Improved the locked app's icon;
Improved the video and image vault;
Improved the stability;
Fixed the bugs.